Standing on top of the World!
So, the first time I saw the Redskins 2008 schedule, my first reaction was, did Jerry Jones write this? I mean, come on, 3 divisional road games in the first 5 weeks? At Dallas, then at Philly? I originally was thinking 3-2, and I was going to be happy. After our less than stellar showing in week 1, I was going to be ok with 2-3. What they did today,had never been done in the history of the Washington Redskins. It took me about an hour and 4 beers to do the research, but no Redskins team has ever won back to back road games against Philly and Dallas. NEVER!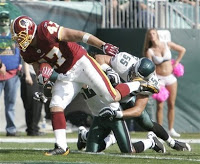 This team keeps amazing me. If this team were Kimbo Slice, they would have tapped out with 9 minutes to go in the first quarter. Down 14-0, momentum totally against them, crazy Philly fans fired up. The Skins picked themselves up, dusted themselves off, and went to work. Slowly chipping away and letting the game come back to them. It didn't matter that the Eagles took Tana out of the game, Portis and Cooley carried us. No turnovers again, you don't realize how huge that is. Any offensive turnover the past 4 weeks could have resulted in a Redskins loss. Zorn showed us again today the difference between him and Gibbs. With a 4th and 1 and a little over 2 minutes to go, he went for it. And the Redskins delivered the dagger. Gibbs would have punted and put the game in Mcnabb's hands.
Sometimes, its all worth it. All the money I've lost betting with my heart. All the shit talking that I've had to take back after the Skins lose a game they should have won. All the tears, all the yelling, all the punching holes in drywall.