August 3: Happy Birthdays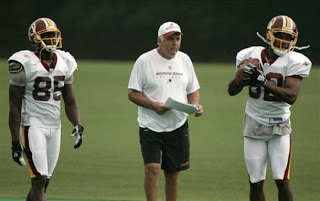 Happy birthday Don Breaux. Don coached in the NFL for 27 seasons, 17 of those in DC. He has 3 Super Bowl rings from his 2 separate tenures with Washington, Gibbs I and Gibbs II. During Gibbs I he was running backs coach, helping 4 different RB's reach 1,000+ yards in a season (Riggins, Rogers, Byner and Brooks.) In Gibbs II he was the pseudo offensive coordinator, though Gibbs and Al Saunders called the plays. Don retired from the Skins right before the season last year, citing a heart condition. Don also played 2 seasons in the NFL as a QB with the Broncos and Chargers. Happy 69th Mr. Breaux.

Happy birthday Doug Overton. Doug spent the first 3 seasons of his 11 year career with the Washington Bullets, from 1992-95. His best season came in 94-95', when he played in all 82 games, averaging 7 points and 3 assist per game. Overall, Doug played in 188 games with the Bullets averaging 6.1PTS. He was traded (along with Don Maclean) for Robert Pack in 1995. In retirement, Doug got into coaching and is now an assistant coach for the New Jersey Nets. Happy 40th Mr. Overton.
Happy birthday N.D. Kalu. N.D. played defensive end for 3 seasons with the Redskins from 1998-200. N.D. appeared in 40 games and registered 7.5 sacks and 35 tackles. I was a fan of N.D's because he wore #72, and reminded me a little of Dexter…well very little actually. N.D. played last season in Houston and has played 11 total seasons in the NFL; he's currently a free agent. Check out the YouTube below of the Skins 2000 defense. Happy 34th Mr. Kalu.
Cheers and Hail