Former Redskins Kicker Chip Lohmiller Is Suing The NFL For Concussions?!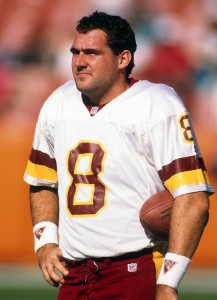 I want to start this post by saying that I have a tremendous amount of respect for the former players of the NFL. I've gone on record many times stating that former players deserve better health and retirement benefits. There's no doubt that the $100 million dollar payrolls and $100 million dollar contracts of today would've never existed if the road hadn't been paved by former players who played for thousands of dollars while holding down second jobs.
With that being said, I look at the recent concussion lawsuits brought against the NFL and I have to question if some of the players listed as plaintiffs are only looking to make some easy money. Here's a list of former Redskins reported to be plaintiffs in the lawsuit:
Michael Batiste
Keith Biggers
Jason Doering
Brad Fichtel
Terrell Hoage
Ethan Horton
Ernie Hanet
Bruce Kimball
Ronald Middleton
Ed Simmons
Walter Stanley
James Steffen
I pride myself in being pretty knowledgeable concerning my Redskins history, but I have no idea who some of these guys are. I'm ok with Hoage, Horton, Middleton, Simmons, Stanley and Steffen being included as each of those former players played in 80+ NFL games. Batiste, Doering and Kimball combined to start 8 NFL games. Fichtel (Fichtel/Einhorn, Fichtel/Einhorn..Fichtel is Eihhorn?!) played in 1 more NFL game than I have…which is to say he played in 1 game. Profootballreference.com has no record of Biggers or Hanet ever playing in a NFL game.
This lawsuit certainly lacks star power. Mark Rypein is the face of the lawsuit…or the crater face of the lawsuit. Rypein says he suffers from memory loss and other side effects of post-concussion syndrome and I have no reason to doubt his claims. I do have reason to doubt the claims of guys who never suited up in a NFL game and I have reason to doubt that a former kicker suffers from post-concussion symptoms.
That's right, Chip Lohmiller has joined the lawsuit against the NFL. A kicker is suing the NFL in a concussion lawsuit!!! This should be immediate grounds for dismissing the case. I know Lohmiller was a big guy and he may have made an occasional special teams tackle…but are you kidding me with this?! He was more likely to suffer a concussion in some bizarre practice kicking session on an errant bounce into the practice net than suffering permanent disability from a NFL game.
It's also been reported that "former" Redskins Tony Mandarich and Todd Marinovich are included in the lawsuit. To my knowledge neither player ever played for the Redskins. I guess reporters only assumed they were former Redskins because they're two of the biggest draft busts in NFL history.
In closing I'd again like to state how much respect I have for former NFL players. And I apologize if any of the players I singled out sincerely suffer from permanent disabilities that they have as a result of playing the violent game of football. But if it looks like a duck and quacks like a duck, you know. Neal Olkewicz had over 1500 tackles and suffered many concussions, where's he at?
Cheers and Hail