Beltway Bloggers Fantasy Football League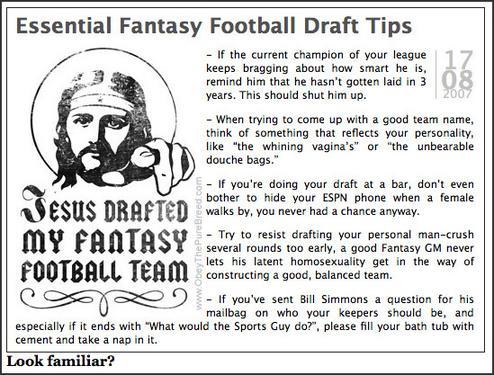 Some of your favorite Redskins bloggers have combined to start a fantasy football league named the Beltway Bloggers. The first annual draft was held Sunday evening and we all had a great time drafting our teams and talking a little smack.
I can't speak on behalf of my competitors but I for one have a definite admiration and respect for the work that they do…and I also want to kick their ass in this league. Here's a list of the teams competing in the league along with a team recap from the draft:
Hogs Haven - Kevin and Ken
Definitely stole the crown of "Homer" from Murf. HH drafted Moss, Portis, Cooley, Gano and the Skins D. They also drafted each one of those guys a couple of rounds earlier than they should have.
106.7 The Fan - Grant Paulsen
I guess someone had to do it, but GP is the guy who drafted Romo…he caught a little shit for that. GP also managed to somehow get both DeAngelo Williams and Michael Turner…he might go on Letterman again for that one.
Real Redskins/CSN - Rich Tandler
I love RT and I was glad he joined our league until he went and drafted perhaps the best team in the league. He was the king of "value picks" and on paper may be the early favorite…but the games aren't played on paper, the games are played on the Internet.
Homer McFanBoy - Brian Murphy
Murf is very proud of his team and tweeted afterwards that his team is "stacked". He also bragged about drinking a Fat Tire which pissed me off. I was warned beforehand that Murf would be a formidable opponent and yes he will be.
Redskins Blog - Matt Terl
Terl was the last pick in our snake draft and spent the better part of the draft complaining about how much his team sucked. I think he went to the Joe Gibbs school of describing his team because it's actually pretty good. Who said we're good, Playboy?
The Cooley Zone - Tanner Cooley
I'm not even convinced this pretty boy is better looking than me, let alone better than me in fantasy football. Our recent Twitter exchanges:
TC: are you in fantasy life? I'm going to destroy you in our league.
FP: my team pisses on yours
TC: false. You're fucked
FP: your team looks like it's a couple of wine coolers away from sucking a dick.
Can't you just feel the love?
D.C. Sports Bog - Dan Steinberg
Steinz had the first pick in our draft and provided all of us with the best moment in our draft by doing something I've never seen in 15 years of fantasy football drafting. With the 40th and 41st picks in the draft Steinz picked Clark and Gates, back to back TE's!
Mr. Irrelevant - Jamie Mottram
Mottram was somehow able to draft a very solid team while also watching a J-Lo movie with his wife, impressive. Also impressive was Jamie's ability to change the black out times for the draft on Yahoo. His team is loaded with good/great players on average/bad teams which is usually a good recipe.
106.7 The Fan - Danny Rouhier
Danny definitely talked more than anyone else…he talked smack, he kissed ass and he did a lot of pre-draft talking about not drafting Cowboys. Danny then went out and drafted a couple Cowboys and a bunch of Giants.
Best of luck to everyone involved, good times.
Cheers and Hail