Orioles…Magic?
I have all kinds of reasons to be excited and optimistic about the 2010 Orioles. The O's are loaded with young talent, they've added some key veterans and have moved their spring training home to within an hour drive or so from my house. Sure they haven't had a winning record in the last 12 years and I've dropped a $1,000.00 or more watching a 60-70 win team play on the MLB ticket during that time…but this is the time of year that I can be excited for my O's.
It's not unrealistic to think the Orioles have a chance to make a run at the wild card, just look at the 2008 Rays as an example. I know playing in the AL East makes it extremely difficult to break .500, let alone make the playoffs…but this O's squad has talent.
OK, maybe I'm talking out my ass about the playoffs, but take a look around the diamond with me concerning the talent.
C- Matt Wieters - Batted .288-9-43 last season. No reason to believe that he can't double those numbers this year. He'll be moving up in the lineup, playing a full season and he's only going to get better.
1B- Garret Atkins - No question Garret had a sub-par 2009 season, but Terry Crowley is known to get the best out of hitters. In the 3 previous seasons to 09′ Atkins averaged .305-25-110. If he approaches those numbers in 2010, he'll be a steal for the O's.
2B- Brian Roberts - Everyone loves Brian for good reason, he's just a hard nosed, gritty and talented ballplayer entering his 10th season in an Oriole's uniform. You can book him to score 100 runs, steal 30+ bases and hit 50+ extra base hits.
SS- Cesar Izturis - Cesar is not going to put up big offensive #'s, but he does play solid defense and handles the bat well. Cesar struck out less than 10% of the time last season and if he can duplicate that again this year while stealing 15+ bases…I'll take it.
3B- Miguel Tejada - I'm happy to see Iggy back in an O's uniform. The power may be gone..hmmmm, I wonder why…but he's still a pure hitter. I expect Iggy to make the adjustment well to 3B and hit somewhere in the neighborhood of .300-15-80.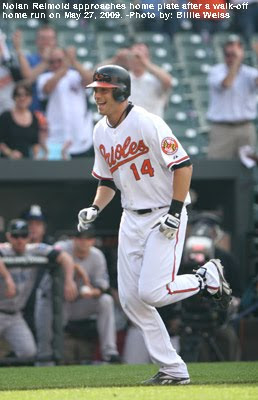 LF- Nolan Reimold - After years of stalling in the minors, Nolan got his chance last season and made the most out of it. I think his game fits well at Camden Yards and he reminds me of Bill Ripken…so I naturally love him. I'm still not sold completely.
CF- Adam Jones - Adam broke out in a big way last year, making his first All-Star team and showing all of his 5-tool abilities. Expect more this season. 30-30…I'm just sayin.
RF- Nick Markakis - My current favorite player, you can write it in cement that he hits .300-20-100 or better. I hope the beard is gone for spring training.
DH- Luke Scott - He may be the streakiest hitter I've ever seen. He can hit 5HR's one week, and not get 2 hits the next…just bat him in the middle of the lineup when he's hot.
OK, that's the good news…unfortunately you have to pitch in baseball, more on that later.
Cheers and Hail