Mr. Snyder, Your Steak Is Ready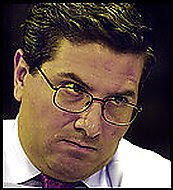 I said "keep it medium!"
It seems as though Jim Zorn might be cooking himself right out of a job. Mr. Snyder likes his steak "medium" and Zorn right now is "medium well." If Zorn doesn't win out, he may just be "well-done."
Just 5 weeks ago everything was good.
Zorn was just perfect
. A coach of the year candidate, the West Coast offense was clicking, and Portis was the league's MVP. Zorn was riding bikes around DC with the President. Since then the Skins have gone 1-4 (including 0-3 at home), and the Offense has disappeared, averaging a mere 10 pts per game. Having a public spat with said MVP candidate was not a good thing. If Zorn was not happy with Portis and his practice participation, it should have been handled in the 40 hours a week they spend together at Redskins Park. It should not have played out on the field of a "must win" game on national TV.
Zorn loves to get in front of the media and talk too much
about things that should be kept in the locker room, he seems to pride himself on his communication. Is he not communicating like this in the locker room with his players?
Now word is circulating that
Zorn needs to win out to save his job
. I'm pretty sure that if Mr. Snyder's steak leaves a bad taste in his mouth, he's going to send it back. So we'll have to wait and see if Zorn and Bush ride off into the sunset together.
Maybe do some fishing.
The truth is I hope Zorn is the coach of the Redskins next season (even though I am less than pleased right now). If Zorn is the coach next season, it will have meant the Skins made the Playoffs this year. This is my hope. I'm still medium.
Cheers and Hail