Redskins TC: Weekend Recap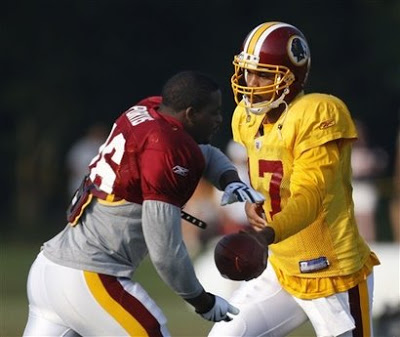 Video of the now famous QB "dodge ball."
(Redskins Blog)
Orakpo continues to impress.
(Redskins Insider)
The sites and sounds of camp + CC signs some autographs. CC=Christy Cooley
(D.C. Sports Bog)
Another of Zorn's unconventional training methods, throw interceptions…repeat.
(Redskins Blog)

Rich Tandler interprets Zornisms. I like.
(Real Redskins)
Daniels talks about the O-line and Cooley discusses his sandwich. (Hogs Haven)
DeAngelo Hall is a new man and happy with the Redskins. (Yahoo Sports)
Zorn addresses the fans at Fan Appreciation day. (Redskins.com)
The best of Twitter Aug 7-9
@1067thefandc Brian Orakpo is just a filthy BEAST.He once again played 4 positions same scrimmage. Put major heat on # 62 LT-Clark. Got beat one in cov-CR
@RickMaese Trying to get to the bottom of this 29,000 figure. I wonder if they counted Mike Williams an extra 25,000 times…
@hogshaven I don't need to see the other squads. Skins have the hottest cheerleading squad in the nfl. Calander cover model went to va tech
@dall23 Redskins Nation Thanks for a great day at the Park…my first fan appreciation day was legit! Check out www.deangelohall.com & @redskinsblog
@redskinsblog I think Colt Brennan's name got a louder cheer than Jason Campbells. And Campbell got quite a cheer.
@dcsportsbog Bugel on seeing live hitting: "That's my turn-on: violence."
Cheers and Hail