Michael Westbrook Has Found A New Opponent To Fight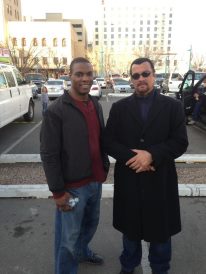 We've seen Michael Westbrook knock out a teammate, give a bully a beatdown and have an MMA match with an oddly small man. Westbrook is now taking his Black Belt in Brazilian Jiu-Jitsu to your local cable provider's On Demand channel. Westbrook will be fighting Steven Seagal in a movie currently filming entitled Force of Execution. I say the movie will be available On Demand because I can't remember the last Steven Seagal movie that opened in theaters. I think in the old days…or not so long ago, these movies were straight-to-video. I do have to say that I do enjoy me some Under Seige and Out For Justice.
In retirement, Westbrook has settled in Arizona and seems to have dedicated his life to Brazilian Jiu-Jitsu. Westbrook will even train you to kick someone's ass! He has 3 children and doesn't give a shit about football…which makes perfect sense because he never cared about football when he was playing. As far as his new career as an actor, I'm assuming it will be Westbrook taking the beating this time.
Now, if you'll excuse me…I'm going to see if I can find Out For Justice On Demand.
Cheers and Hail