Time For Shanny To Stop Banking On Banks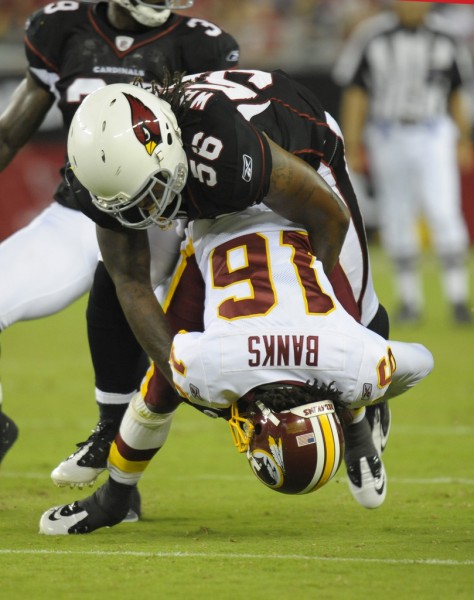 Mike Shanahan discussing Brandon Banks earlier in the season:
He's a guy that's a playmaker, and he's proved that since he's been here. We're going to find ways to get him the football."
Well, you've tried Shanny and it's failed…however, it's not for a lack of trying. The Shanny's have force fed the ball to Banks with terrible results. This experiment has failed worse than a TE reverse and almost as bad as Shanny hitching his reputation to Rex Grossman and John Beck.
Here's how bad Banks has been:
In the Redskins last 5 games Banks has 4 rushes for 7 yards and 5 receptions for negative 4 yards. That's 9 offensive touches and a total of 3 yards. Jamie Mottram could do better.
Banks has 7 receptions for 7 yards this season. Grant Paulsen is more elusive as a Wide Receiver.
Banks has zero kick returns in 40% of the Redskins games this season…so the 1 thing he does well is pretty much non-existent do to the new rules.
Banks punt return stats in 40% of this season's games: negative 3 yards, negative 1 yard, negative 4 yards and 1 yard. Again, the one thing he does well has been neutralized. Kevin Ewoldt can do better.
Banks has 1 TD in 231 career touches, I'm pretty sure I can score a TD with 231 touches.
Banks hasn't scored a regular season TD since October of 2010.
Banks has 20 career offensive touches totaling 70 yards and ZERO TD's. 3.5 yards per touch.
Banks seems to fumble out of bounds at the end of every play.
It's time to move on from the "Speedy" Banks era. Give Niles Paul a chance to return kick-offs and put Santana Moss back on punt returns. Let Ewoldt, Mottram or Paulsen take the offensive reps, we can't do any worse.
I' m begging you Wooden Teeth, please take all of the Banks plays out of the playbook. While you're at it take the TE reverse and option plays out of there…use them all as kindling. Maybe throw the ball downfield again, great things seem to happen when you do.
Cheers and Hail