Joe Gibbs Interview With Clinton Portis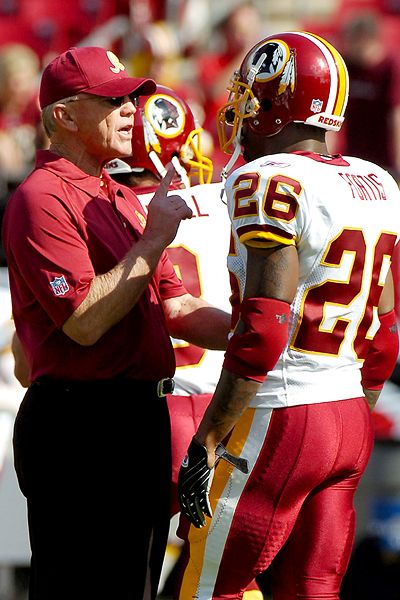 Joe Gibbs recently posted an interview on his website with Clinton Portis. The interview centers around Portis' relationships with Sean Taylor and Coach Gibbs. I recommend checking out the entire interview, here's a few of the highlights:
Playing for Joe Gibbs:
It was the best thing that ever happened to me. But I will say that Gibbs ran us into the ground! Coach Gibbs taught me how to become a man and to take responsibility for your actions both on and off the field. I have the greatest respect for him as a person and all the hard work and dedication that he put in- not only as a coach, but also as a mentor and friend. He would always give his honest opinion and had the ability to talk to you without being judgmental. He cared about his players more as people then he did about us winning games. Don't get me wrong…he loved winning too. He got the best out of you when it came to football, but I think it came from how much his players respected him.
His relationship with Sean Taylor:
The way that Sean developed as a player and how he grew to trust Coach Gibbs was just outstanding. He never complained and always worked hard. For example if it was hot outside then he would go outside and run in a full sweat suit and if it was cold he would come out in shorts and a t-shirt and fight through the chills. You would never hear Sean give excuses like it's too hot or too cold. I remember one day I came in to work out and Sean was there dressed in jeans, flip-flops and a sweater. He said that he would run with me so I didn't have to work out by myself. So he ran 100's with me and when we were done running I find out that it was his third time working out that day. He had run with every group that came in to work out that day. He was just that kind of guy
.
Hearing about Taylor's death:
I remember getting a knock on my door at 6 a.m. and I could tell as soon as I saw Mr. Snyder's [owner of the Redskins] face through the peephole that this was not news that I wanted to hear. I opened the door and Mr. Snyder was crying and before he could say anything I said, "Don't tell me that."

And Mr. Snyder replied, "He's gone."

I felt like this was all a bad dream and this couldn't actually be happening. There is so much that goes through your mind when you get news like that. When you start to reflect on your last moments or last conversation with that person you feel like there is so much that you wish you had said, so much that you wish you could have done, should have done, etc.
Portis goes on to say he's still keeping in shape for another shot at playing or in order to look good in front of a camera. I wish him nothing but good luck.
Cheers and Hail