Why The Redskins Should Trade For Tim Tebow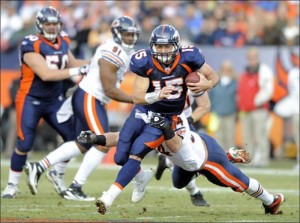 The Redskins should trade their 5th round pick to the Denver Broncos in exchange for Tim Tebow. In fact, I may be inclined to trade one of the Redskins 4th round picks (they have 2) in exchange for Tebow. Do I want Tebow to be the Redskins starting quarterback while Robert Griffin III learns the offense and adjusts to the NFL game? Hell no! Do I want Tebow to back up RG3 and step in in the event RG3 struggles or gets injured? Definitely not! I prefer Josh Johnson for that job.
When I watched Tebow quarterbacking the Broncos last year I saw a below-average NFL QB. The Redskins certainly don't need anymore of those, they've already cornered the market with John Beck and Rex Grossman. What I also see when I watch Tebow is a combination of Chris Cooley, Peyton Hillis & Darell Young…and that's what I want Tebow to be for the Redskins. A running back who plays some fullback and tight end as well. Tebow has a similar body structure to all three players, standing 6'2" and weighing 236 lbs. He's already proven that he's a NFL caliber running back while averaging 5.4 yards a carry with 12 TD's on 165 career carries. Tebow played TE in high school for a year and NFL executives speculated that this was the position he would excel at when he was coming out of college. Is Tebow worth a 5th round pick? Take a look at the 5th round picks of the Redskins during the Dan Snyder era and tell me:
2000 - Quincy Sanders
2001 - Darnerien McCants
2002 - Robert Royal
2002 - Andre Lott
2004 - Mark Wilson
2005 - Robert McCune
2006 - Anthony Montgomery
2007 - Dallas Sartz
2009 - Cody Glenn
2011 - Dejon Gomes
2011 - Niles Paul
There is no educated argument against trading a 5th round pick in exchange for Tim Tebow. I state my case with the above names. Are you in favor of drafting another Robert McCune or bringing in a guy who's a proven winner, a tireless worker and probably the best athlete on the team? Tebow can be a major offensive weapon with just 10 touches a game and will be the red zone threat the Redskins still desperately need.
Bill Belichick wants Tim Tebow…and I'm sure he wants him for the same reasons I've listed above. He certainly doesn't want him to take snaps away from Tom Brady or to groom Tebow to be Brady's successor. Belichick sees Danny Woodhead on steroids and I'm sure Josh McDaniels would go crazy with his new toy. I can already see the 3 tight end sets with Aaron Hernandez and Rob Gronkowski.
I'm not sure how much input John Elway will allow Tim Tebow into this trading process. If Elway looks out for Tebow I'm sure he'll trade him to a team that will give Tebow another legitimate shot to be a starting QB in the NFL. However, those teams will be few to choose from and it may come down to the best offer on the table…the Redskins need to be among those teams. The Redskins are still a team that lacks playmakers and leaders, Tebow could be both.
Cheers and Hail