Is Peyton Manning The Next Billy Kilmer?
Unless you live under a rock I'm sure you've heard the rumors that Peyton Manning is set to be cast aside by the Colts, a result of neck surgery that has left Manning with a "noodle" arm according to reports. Manning's passes after surgery have been described as "wounded ducks". Let's see here, an over the hill, noodle armed QB who throws wounded ducks…we're talking about Billy Kilmer right?
It was a little over 40 years ago when the Washington Redskins traded for Billy Kilmer. At the time Kilmer had been in the NFL for 10 years, was 32 years old and was headed to his 3rd NFL team. Kilmer was coming off a horrible season for the New Orleans Saints, a season in which the Saints won just 2 games and Kilmer threw just 6 TD's vs. 17 INT's. Kilmer's performance led the Saints to draft a can't miss QB prospect out of Mississippi by the name of…Archie Manning.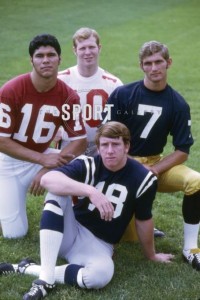 40 years later it's Archie's son who's being replaced by the can't miss prospect, in this case Andrew Luck. It's Peyton who's over the hill and throwing the wounded ducks…the Manning's are coming full circle.
I'm still not sure if the Redskins should sign Peyton Manning or not? But, if Manning were to become the 2nd coming of Billy Kilmer it wouldn't be so bad. All Kilmer did was lead the Redskins to a Super Bowl, go 50-23 as a starter and lead the NFL in passing during the 72' season. He would also make a Pro Bowl and the Redskins Ring of Fame.
Noodle arms, wounded ducks…can't lose?!
Cheers and Hail