July 18-19: Weekend Birthdays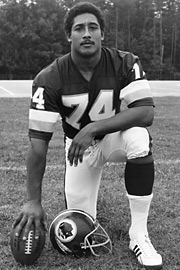 Happy birthday George Starke. George was voted one of the 70 greatest Redskins. He played 12 years for the Skins appearing in 156 games. He was known as the "Head Hog." In the 80′s the Hogs were the biggest line in the NFL and George was the right tackle…he weighed 260 lbs! George was drafted in the 11Th round in1973 and retired after the 84′ season. In retirement George has dabbled in TV, restaurants and dealerships. Happy 61st Mr. Starke!
Happy birthday Shar Pourdanesh. Shar appeared in all 48 games during his 3 seasons with the Washington Redskins. He is the only Iranian born player in the history of the NFL. Shar now works for a company called Loan Repair and Rescue in California. Happy 38Th Mr. Pourdanesh.