The Cowboys Eat Dick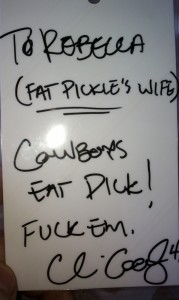 It doesn't seem like Dallas week…and the rivalry certainly seems to have lost it's luster. Maybe its the fact that neither team has been particularly good for nearly 2 decades. Maybe it's a different era, an era when some of these players are friends and work out together during the off-season. Maybe the current players just don't get it, they don't get the fact that diehard Redskins fans HATE Dallas.
One player does get it and he's done his best to stoke this rivalry. He's had some of his best games of his career against the Cowboys. I wish Chris Cooley was healthy and on the field on Sunday, cuz he gets it. He's on record as "hating" the Cowboys. I hope everyone can join me and start it trending on Twitter #cowboyseatdick.
It's Dallas week people, let's act like it!
Cheers and Hail