#TeamJones Is Still DREAMIN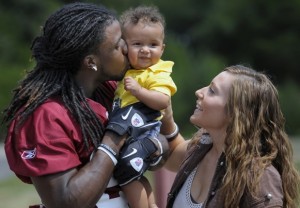 I don't know how the rest of you feel, but I for one miss Reggie Jones and the journal that he kept on this site. I wanted to give everyone an update on Reggie and his continued pursuit of following his dream.
Reggie is playing for the UFL's Virginia Destroyers who will play for the UFL Championship this Friday night in Virginia Beach, VA. The Destroyers are coached by former Redskins and longtime NFL coach Marty Schottenheimer, who also has former Redskins coaches Kurt Schottenheimer and Mike Stock on his staff. Former Redskins player Delbert Cowsette is also a coach.
After the championship game on Friday all UFL players are free to sign with any NFL team. Over the last 2 years over 100 UFL players have signed deals with NFL teams. Of course I'm hoping that Reggie can make a play or two that will catch the eye of the NFL scouts that will be in attendance. Reggie and I have remained in contact since training camp and he's never stopped working towards or wavering on his ultimate goal…to play again in the NFL. For those of us that know him best, we have no doubt that this will happen.
Reggie would never say a cross word about the Redskins regarding his departure from the team…which is probably why RJ went away quietly. I, on the other hand, have a 30+ year relationship with this team and I'll say whatever I want. It was total BS how everything went down with the Skins, it just wasn't right…and I'll leave it at that.
I'm still on #teamjones and I know you guys are too. We haven't heard the last from Reggie…far from it.
Goodnight… #DREAMINabout "orange cones" the roadblocks in the way of my friends road to success won't stop him…they can only slow him down. ~$HOWTIME
Cheers and Hail