RJ: Training Camp Day 17
Reggie Jones is posting his training camp journal on this site, please check back often to follow Reggie on his journey.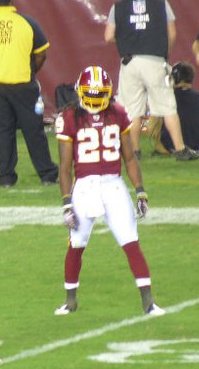 Wokeup this morning a little sore.. I played with Dash for a lil bit, then I went to the facility to hop in the ice tub. (Not the most pleasant feeling, but it gets the job done) Wifey went to the store with Dash to get him a high chair and a few other things for the house while I handled my body.
After I finished freezing my legs off, I went upstairs to watch the film from yesterdays game. I like to watch it and critique myself before the coaches do it the following day. Even though I played a good game, there's always room for improvement, and Im ALWAYS looking for ways to get better.
Came home and watched a movie w/ wifey and Dash. We watched "Hall Pass"
#ShowtimeMovieCritics: 2 out of 4 #stars.. (must see DVD.. Real life situation comedy)
I talked to the reporter from the Washington Post finalizing the story to drop tomorrow. I know it's supposed to be therapeutic to talk about my past, but sometimes it just hurts to re-live the moment, Sometimes I wonder is it really worth sharing? Then im reminded that through my personal experiences I can possibly inspire others. So I hope it does just that.
My pain fuels me.
Im Going to bed. Excited for practice tomorrow.
The field brings me peace.
I enjoyed my day off with the fam.
Goodnight World… #DREAMINabout: "#RAINBOWS" If you come out shining after the rainy days you can create something amazing. ~$HOWTIME