RJ: Training Camp Day 14
Reggie Jones is posting his training camp journal on this site, please check back often to follow Reggie on his journey.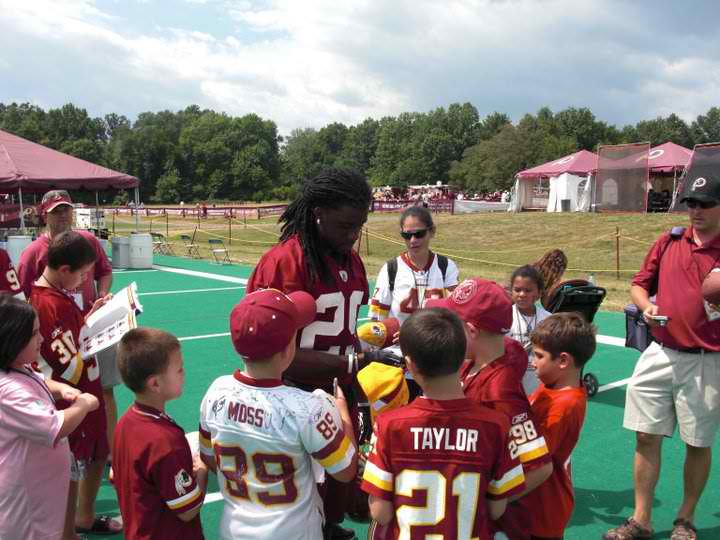 Got a call to my room at 5:13 A.M. My roommate answered and said "Reg, I think its for you." I responded, " AT 5 IN THE MORNIN..!?!? NO IT'S NOT!! I AIN'T GOT NOTHIN TO SAY TO NOBODY AT 5 AM..TELL EM IM NOT HERE." I Rolled over and went back to sleep. lol Then I got a knock at the door, it was the random drug test people. So I got up, walked down the hall in my pajama pants, no shirt, sleep in my eyes, and a Seattle fitted and waited in line to take the test. When I came back to the room, I realized my key didn't work. So I had to go downstairs to the lobby and get my key re activated. WHAT A WAY TO START THE DAY. lol
Went to practice had a good day.. Allowed 2 completions 1 little 5 yard hitch, and a 12 yard curl. Bad technique on that play put me in bad position. Everything else was LOCKED DOWN!
After practice I signed autographs for a bit, then had a photo shoot out on the field with the Washington Post which included Wifey, Dash and Me.That was fun (=
After that I went and hit the weights, got my poof on.. (=
I like when people come to me after practice and tell me my journal inspires them, or they read it everyday, and to keep it up. I enjoy touching other peoples lives through my own personal experiences.
I'm ready to go this Friday. Pre-season or not; there's competition and I'm a competitor who enjoys out competing the next man. Had a good week of practice and I'm well prepared to ball and move on up.. like drake said "I feel like the throne is for the taking. WATCH ME TAKE IT"!!
Goodnight World… #DREAMINabout: "#HISTORY" It needs to b made.. so im writing the script now!! ~$HOWTIME