RJ: Training Camp Day 11
Reggie Jones is posting his training camp journal on this site, please check back often to follow Reggie on his journey.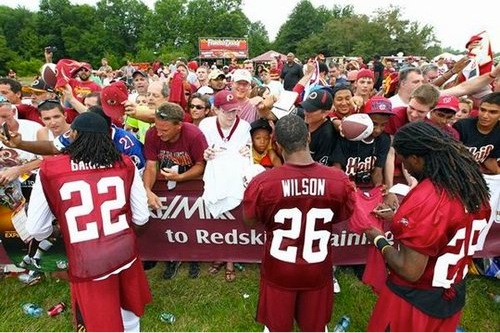 Woke up this morning once again earlier than anticipated (7:13am).. SMD (SHAKIN my DREADZ)… Its weird that on my days off, my body won't let me sleep in like I want to. So I forced myself back to sleep for another hour.
Once I got up we watched the N.F.L. Hall of Fame enshrinement.. I fell asleep to early last night to watch it. So I DVR'd it; I couldn't miss Primetime doiN his thang. Turns out it stopped recording after Marshall Faulks speech.. (I was pissed!!) lol guess I'll watch it later. I gotta hear what Prime had to say. (He's the best to ever do it HANDS DOWN!)
Paid a few bills then realized I needed my dreads freshened up. So wifey went ahead and rejuvenated them for me. Yes she's a wife of many talents. I'm very fortunate! (=
Once we finished with my hair, we went out to eat (Pf Changs). Enjoyed our last family night before I had to check back into the hotel. SpendiN the day with my family is very refreshing to me. It reminds me of what's important. The little moments like preparing wifey's plate while she holds Dash, or WatchiN him try to dive out of her arms to dig in her plate. lol (The simple things) … (=
Body feels rested. Ready for practice tomorrow.
Another day to show and prove. LEHGO! "I expect to be great"
Goodnight World… #DREAMINabout: "#PLANES" Some thought flying was impossible. But LOOK AT ME NOW! ~$HOWTIME