RJ: Training Camp Day 1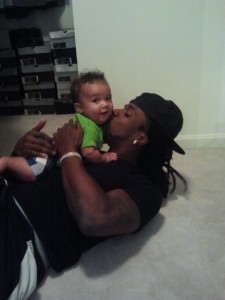 Woke up this morniN earlier than I was supposed to.. I guess that's what happens when football takes over your mind.. (= I just layed in bed looking at the ceiling thinking about BALLIN THIS YEAR..
Once my son (Dash) woke up, I played w/ him for a while.. Then i got dressed (w/ a SEATTLE FITTED OF COURSE) and left to meet up w/ coach Slo.. He asked me to come in and go over the plays so that I'm ahead of the curve come Go Time..
We had a good meeting, then i went for a run.. 8 half gasers.. Felt good, not to strenuous, but not to light..
Came home Wifey made me two BOMB sandwiches,, (= played xbox for a while and rested til CheckiN time at the hotel..
Oh yeah, had to run to walmart to get my roommate (Henson) a fan, because apparently he can't sleep w/out one.. lol
IM SO READY TO GO!! I HAVE SO MUCH TO SHOW THE WORLD.. its my time..
Goodnight.. #DREAMINabout: "#StreetSigns" the ones im followiN all say the same thing. "GREATNESS AWAITS YOU" … ~$HOWTIME
$HOWTIME