Redskins Free Agency: Show The WR's The Money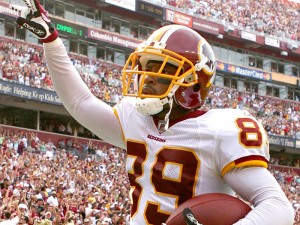 Despite drafting 3 wide receivers in this years draft, including a potential starter in Leonard Hankerson, the WR position remains a huge hole for the Redskins. The Redskins must sign a top tier WR via free agency, but exactly how are they going to do that? Well, they're going to have to do what they do best…overpay.
How else can you expect the Redskins to sign a premier WR on the open market? What do the Redskins have to offer Santonio Holmes or Sidney Rice? I'll tell you, they got John Beck and a 10W-22L record over the past 2 seasons. Super Bowl caliber teams like the Bears, Chargers, Jets and Patriots are rumored to be in the market for the same WR's the Redskins will be targeting when free agency begins. So, if you're an free agent who can catch 60-70 balls a year from Tom Brady and have a chance to win the Super Bowl the next 3 years, or catch 80 from John Beck and go 5-11 next season…which team would you choose? I'd choose the Patriots myself, unless the Redskins offered an extra $10 million. So, Redskins fans…don't bitch and moan if the Redskins overpay at this position, it's something they have to do.
Before I breakdown my top 5 free agent WR's the Redskins may target via free agency let's look at the current roster to see just how thin we are at this position.
Anthony Armstrong - great story, great work ethic…but let's be honest, there was a reason he is an AFL veteran and he's best suited as a 3rd WR.
Terrence Austin - will not make the 2011 roster.
Brandon Banks - special teams and gimmick plays are his forte…if he makes the team.
Mike Furrey - will not make the 2011 roster.
Leonard Hankerson - great pick and may start this season (especially if we don't sign any of the guys below). However, rookie WR's rarely post big #'s their first couple seasons.
Tauras Johnson - who? The Tauras was a shitty car.
Malcolm Kelly - can't rely of him being healthy, his roster spot is as fragile as his body.
Niles Paul - expect him to contribute on special teams but little more in 2011.
Maurice Price - who?
Aldrick Robinson - destined for the practice squad.
Roydell Williams - if he is our go-to guy on 3rd downs again next season I'm turning in my fan card.
Now, here's a look at my top 5 free agent targets along with my predictions of what the Redskins chances are of signing each player and where each player will ultimately wind up.
1. Sidney Rice
Rice is my #1 target for several reasons, the first one being that he can make a bad quarterback look good…we will need that. Brett Favre had his best season 2 years ago by simply throwing up his crazy ass passes that Rice and his 6'4" frame jumped up and grabbed from defenders. He's only 24 years old and seems to be a pretty model citizen compared to some other free agent WR's. I also have Rice targeted #1 because I believe the Redskins have a legitimate chance to sign him. Rice is represented by Drew Rosenhaus, who has a great relationship with the Redskins. "Great relationship" meaning he can get Dan Snyder to fork over a huge signing bonus while eating a steak at Morton's. Could be Shanny's B&G version of Brandon Marshall.
Chances the Redskins sign him: 75%
2011 Team: Redskins
2. Santonio Holmes
Holmes is a big game player who already has a Super Bowl MVP. The Jets want him back badly but he'll be looking for the biggest payday as he's a bad step away from another suspension. The most guaranteed money just may win out…which gives the Redskins a fighting chance.
Chances the Redskins sign him: 50%
2011 Team: Jets
3. Santana Moss
I'd love to see Santana back but my concern is he signs for a little less money to play for a contender. He's on record as saying that he'd like to comeback, but I can see him in CHI, NE or SD. My hope is that Rosenhaus (represents Moss also) talks the Danny into signing both Moss and Rice as a package deal. Don't be surprised if this happens, Drew and Danny have worked out deals like that before.
Chances the Redskins sign him: 50%
2011 Team: Bears
4. Braylon Edwards
The Redskins have been rumored to be both interested and not interested in Edwards depending upon which web sources you follow. I hope, I pray that they aren't interested. He played pretty well last season in his contract year but this is the kind of player who'll roll over on you like AH. No, no, no!
Chances the Redskins sign him: 33%
2011 Team: Dolphins
5. Jacoby Jones
Ok, he's not the 5th best free agent WR available…he may not be the 10th or 15th but he knows the offense well and could be plugged in immediately at the #2 or #3 WR position should all else fail. He had a nice 4 game stretch to end last season, catching over 20 balls.
Chances the Redskins sign him: 60%
2011 Team: Redskins
Other WR's to consider: James Jones, Mike Sims-Walker, Lance Moore
Cheers and Hail