Redskins All-Time Best/Worst Defensive Ends
This is part 8 in a series of posts in which I'll list my choices for the Redskins all-time best and worst players at each position. Agree, disagree? Let me know in the comments. Today we cover Defensive Ends, next up are the Defensive Tackles.
Worst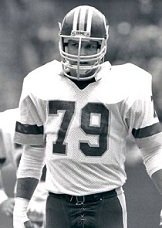 #5 - Todd Liebenstein
What a scary name for a defensive end, huh? Was he in a DE rotation with Gary Roenicke? Liebenstein was a 4th round pick in 1982 and actually started in the Super Bowl XVIII debacle. He was cut in the middle of the 1985 season after registering 1.5 career sacks.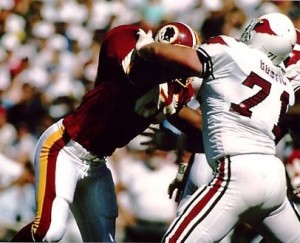 #4 - Steve Hamilton
Hamilton was drafted in the 2nd round of the 1984 draft and played 4 lackluster seasons for the Skins totaling 6.5 sacks in 46 games.
#3 - Mat Mendenhall
Mendenhall was drafted in the 2nd round of the 1980 draft and actually started every game in 1982 including Super Bowl XVII. He walked out of camp on the Skins in 1983 and never played again…he was a quitter. Mendenhall finished his career with 1 official sack in 23 games.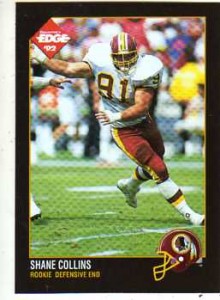 #2 - Shane Collins
Collins was yet another 2nd round pick (1992) for the Skins that didn't pan out. Collins would play 30 games in the burgundy and gold, racking up 47 tackles and 1 sack.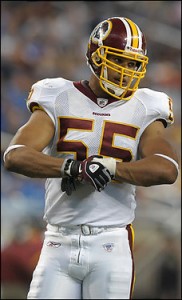 #1 - Jason Taylor
In an act of desperation, the Redskins traded 2nd and 6th round picks for Taylor during training camp of 2008. After picking up his $16.5 million contract, the Redskins would get 3.5 sacks and 29 tackles in one injury-plagued season before cutting him.
Best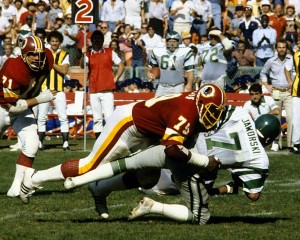 #5 - Coy Bacon
Bacon played just 4 seasons with the Redskins but definitely was a force during his tenure. Bacon totaled 38.5 sacks (unofficially) and 7 fumble recoveries in just 51 games.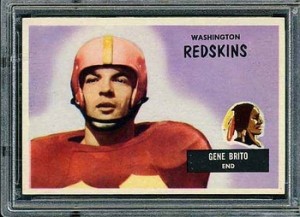 #4 - Gene Brito
Brito was a 5-time Pro Bowler and 4-time All Pro who played all 84 possible games during his 7 seasons as a Redskin. NFL player of the year in 1955 and one of the 70 Greatest Redskins.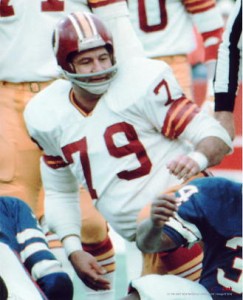 #3 - Ron McDole
Mcdole was another incredibly durable defensive end who never missed a game due to injury. 'The Dancing Bear' played 114 games during his 8 seasons in the burgundy and gold. Sacks weren't an official stat during his era so we are left guessing as to how many he had, however he did have 6 INT's and 7 fumble recoveries. One of the 70 Greatest Redskins.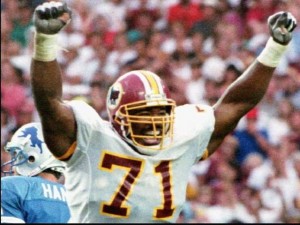 #2 - Charles Mann
Mann played more games than any other DE in Redskins history, amassing 163 over his 11 seasons. Mann was a 4-time Pro Bowler who forced 17 fumbles and had 82 sacks and 784 tackles during his Redskins tenure. Mann is a 3-time Super Bowl Champion, one of the 70 Greatest Redskins and a member of the Ring of Fame.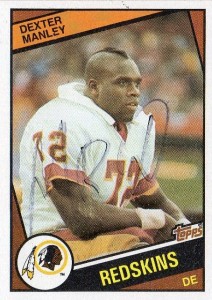 #1 - Dexter Manley
Manley is the career leader with 97.5 sacks as a Redskin (in 54 less games than Mann). Manley was an absolute beast who was a Pro Bowler and 2-time All-Pro. Also a member of the 70 Greatest Redskins and Ring of Fame.
Cheers and Hail