Favorite All-Time NFL Player: John Riggins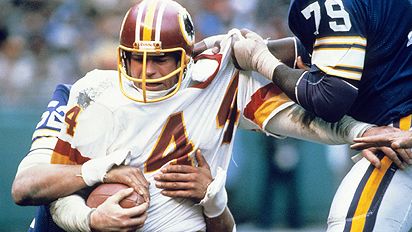 This is one in a series of posts that I am writing about my favorite things. What's your favorite things? Tell me in the comments section or email me from the main page of the site.
My favorite football player of all-time is John Riggins. Despite the fact that he has been retired for nearly 25 years, no other player has been able to unseat Riggo from this title. Of course, there's never been another player that was quite like Riggo. Standing 6'2" and weighing 230lbs, he was a huge running back, but he had a personality even larger.
What a lot of people don't know about John Riggins… he was FAST. People saw the big body, the "3 yards and a cloud of dust," and thought he was slow. NOT! He was twice the 100 yd dash state title holder in high school. He also broke the state record, until then held by a guy by the name of Gale Sayers.
Everyone remembers and sees the highlight of Riggo's 43yd TD, probably the single biggest play in Redskins history. What I remember is that play capping off the single best performance by any athlete, in any sport, in playoffs history. I defy anyone to tell me a better performance than Riggins in the 82 playoffs. He carried that team on his back. Here's a quick look at his stats from those playoffs.
OPP ATT YDS TD
DET 25 119 0
MIN 37 185 1
DAL 36 140 2
MIA 38 166 1
For the those of you without a calculator, that's 136 carries for 610 yards and 4 TD's in 4 games. WOW!
As far as Riggo's personality, great quotes, and funny stories, I highly recommend a google search.
Apologies to Art Monk, Darrell Green, Dexter Manley, and Gary Clark.
TRIVIA – On the day my grandmother retired from bartending John Riggins stopped by to give her his congrats. He also asked for a 6 pack to go



Cheers and Hail