Redskins All-Time Best/Worst WR's
This is part 3 in a series of posts in which I'll list my choices for the Redskins all-time best and worst players at each position. Agree, disagree? Let me know in the comments. Today we cover Wide Receivers, next up are the Tight Ends.
Worst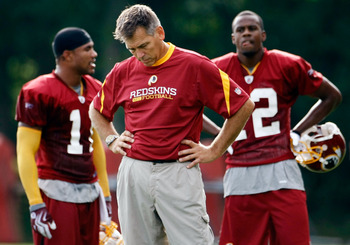 #5 Devin Thomas & Malcolm Kelly (tie)
Ok, technically Kelly still has a chance to prove he has some redeemable value but do any of us really expect that to happen? These two 2nd round picks have combined for 68 catches 810 yards and 3 TD's in 60 games. That's 1 catch for 12 yards a game…between the two of them. We only picked these guys over the likes of DeSean Jackson and Mario Manningham! F-me to tears.
#4 Taylor Jacobs
Another 2nd round pick, this one from the Spurrier era. His horrific tenure in DC produced 38 receptions for a 10.5 YPR in 30 games. This time we passed up on Anquan Boldin who was chosen 10 picks later.
#3 Desmond Howard
The #4 overall pick in the 1992 draft, Howard's explosiveness from college didn't translate to the pro game. He showed some bright spots in the return game but produced just 66 receptions in 48 games as a receiver.
#2 Brandon Lloyd
The Skins traded a 3rd and 4th rounder then gave a $10 million signing bonus to Lloyd…the results on the field were a nightmare. 25 receptions and 0 TD's in 23 games before the Skins cut him. He's now a Pro Bowler for the Denver Broncos, of course he is.
#1 Alvin Harper
After signing with the Redskins as a free agent in 1997, Alvin appeared in 12 games…he caught a pass in just 1 of them, totaling 2 catches for 65 yards during his Redskins career. Hey, that's a nice YPR average!
Best
#5 Santana Moss
Moss ranks near the top in many Redskins receiving stats all-time including #1 in receptions per game and #2 in yards per game. Moss has accumulated 442 receptions for 6,142 yards and a Pro Bowl during his tenure.
#4 Bobby Mitchell
Hall of Famer , 4-time Pro Bowler and never missed a game during his 7 year Redskins tenure. Ranks #1 in YPR for his career. Accumulated his stats during an era when the NFL had 14 game seasons. His 2,820 yards during the 1962/63 seasons (14 game seasons) were the most in a 2 year span in Redskins history…he probably deserves to be higher on this list.
#3 Charley Taylor
Hall of Famer and 8-time Pro Bowler! Retired as the NFL's all-time leader in receptions. Currently ranks #1 in TD receptions and #2 in receptions and yards on the Redskins all-time list.
#2 Gary Clark
4-time Pro Bowler and 2-time Super Bowl Champion. Part of the argument against Art Monk getting into the HOF was that many voters believed Clark was the better receiver and more of a playmaker than Monk. He definitely was a big game player and in the scoring system I used to compute this list he actually tied Monk for #1.
#1 Art Monk
3-time Pro Bowler and 3-time Super Bowl Champion. At one point he held the NFL record for receptions for a season and career, as well as receiving yards for a career. 888 receptions for 12,026 yards.
Cheers and Hail