Redskins All Time Best/Worst QB's
This is the first in a series of posts in which I'll list my choices for the Redskins all-time best and worst players at each position. Agree, disagree? Let me know in the comments. Today we cover Quarterbacks, next up are the Running Backs.
Worst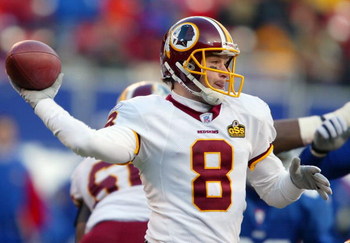 #5 Tim Hasselbeck - Out of all the crappy QB's Steve Spurrier rolled out during his tenure as Redskins head coach, Hasselbeck was the worst. He started 5 games, compiling a 1-4 record and a 63.6 QB rating. I can't stand to see his face on ESPN and his wife is annoying as hell.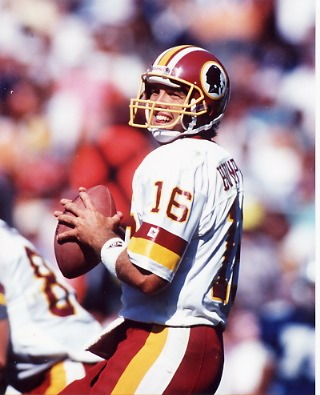 #4 Stan Humphries - The 1990 Redskins had virtually the same roster as the 1991 squad that won the Super Bowl, the difference? Well, that would be the 5 game stretch where Humphries had to start for an injured Mark Rypein. Humphries threw 1 TD and 10 picks during that time. His run as starter came to an end during "the body bag" game. To his credit, Humphries had a decent career in San Diego and led them to a Super Bowl in 1994.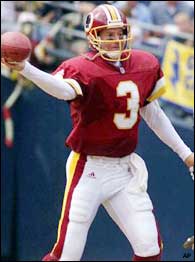 #3 Jeff George - This one is on the Danny. His handpicked QB started 7 games as a Redskin, winning 1 of them. His last game as a Redskin (and as a NFL player) was an embarrassing 37-0 loss against the Packers on Monday night. He disgraced the #3 worn by Mark Moseley…hell he disgrace the #3 worn by Hunter Smith.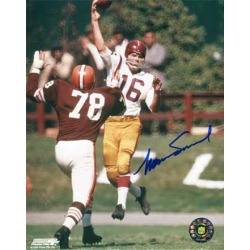 #2 Norm Snead - Before my time but his numbers speak volumes. He was 9-30-3 as a starter and threw 46 TD's versus 71 INT's! The great news…we were able to trade him for Sonny Jurgenson.
#1 Heath Shuler - Did you expect any other name here? He sucked, no he "epically" sucked. He won 30% of his starts, had a 58.3% QB rating and, well…he sucked!
Best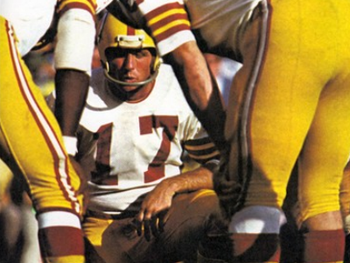 #5 Billy Kilmer - A fan favorite Billy led the Redskins to a Super Bowl and also appeared in a Pro Bowl. He was 50-23 as a starter.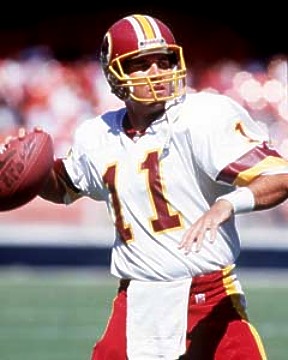 #4 Mark Rypein - Rypein appeared in 2 Pro Bowls and was the Super Bowl MVP in 1991.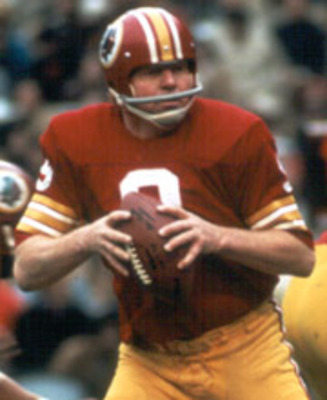 #3 Sonny Jurgensen - Sonny made 4 Pro Bowls and a Super Bowl. Sonny is #2 in career yards passing and passing TD's for the Skins. Hall of Famer.

#2 Joe Theismann - 2 Super Bowls with 1 Championship. 2 Pro Bowls and the Redskins career leader in passing yards and wins as a starter.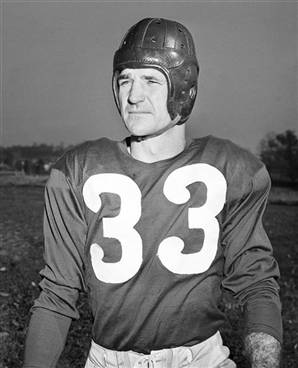 #1 Sammy Baugh - Way before my time, but the guy pretty much threw the first forward pass. All-around athlete who earned 6 Pro Bowls and 4 Championship game (2 wins) births. #1 on the Redskins career list for passing TD's and a Hall of Famer.
Cheers and Hail