The Redskins 2010 Draft Was Better Than Mine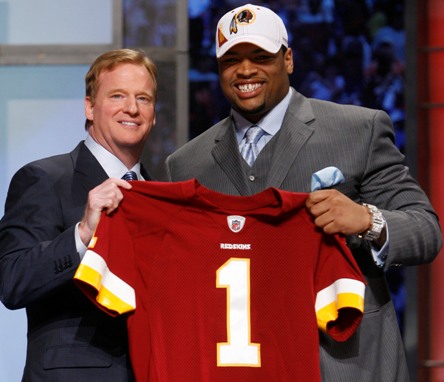 After the Redskins draft of 2010 I wrote a post highlighting some of the players I thought the Redskins should've taken instead of the guys they chose. I'm sure no one remembers this post and I could leave it buried in the history of other FP posts that are both sucky and forgettable. But, I'm here to stand before you and say that my draft sucked. I managed to draft the most underachieving and brittle convicts ever corralled. Here's a look at my picks versus the Redskins.
Round 1:
The Redskins chose Trent Williams while I basically took the field while singling out Russell Okung. Williams played very well in his rookie season and appears to be a guy we can plug into the starting lineup for the next 8-10 years. Okung was bothered by a high ankle sprain all year. Redskins win.
Round 2:
The Redskins traded this pick in exchange for Donovan McNabb, this didn't work out so well. However, I spent my pick on Sergio Kindle. I felt Kindle would make a nice complement at OLB to his former college teammate Brian Orakpo. Kindle broke his skull falling down a flight a stairs before he ever played a down. How does a professional athlete do this…like the rest of us would, he got drunk. Kindle later got a DWI and may never play a down for the Ravens. Redskins win.
Round 3:
The Redskins used this pick on Jeremy Jarmon in the supplemental draft in 2009. So far Jarmon has not produced on the field but there seems to still be some potential there. I picked Morgan Burnett who started at FS for the Super Bowl Champion Green Bay Packers from week 1. Unfortunately, Burnett tore his ACL in week 4 (he played half a game w/ the torn ACL) and was lost for the season. I'm calling this a draw.
Round 4:
The Redskins chose Perry Riley who failed to make his mark as a linebacker on defense and made several critical errors on special teams. I chose a projected round 1 pick and "workout warrior" Bruce Campbell. Campbell also failed to make his mark with the Raiders on offense and played sparingly on special teams…another draw.
Round 5:
The Redskins traded this pick to the Rams for DE Adam Carriker, who had 1.5 sacks in 15 starts. I chose CB Perrish Cox, who started 9 games at CB and played well for the Denver Broncos. Unfortunately, Cox is now facing life in prison for sexual assault! Redskins win.
Round 6:
The Redskins chose TE Dennis Morris who was traded during training camp for a guy we cut 1 day later. I chose Jonathan Dwyer a RB chosen by the Steelers. Dwyer appeared in only 1 game, but he's still on the Steelers' roster. I win.
Round 7:
The Redskins chose WR Terrance Austin who was a practice squad member for most of the year and caught 3 balls during the regular season. I selected DE George Selvie who was slated as a 1st round pick had he come out of college in 2009. Selvie appeared in all 16 games for the Rams registering 1.5 sacks. I win.
So there you have it. A less than stellar draft by both the Redskins and FP. The Redskins win this draft by default and Trent Williams is definitely the jewel of this draft.
Cheers and Hail