1st Round QB = Debacle 51% of the Time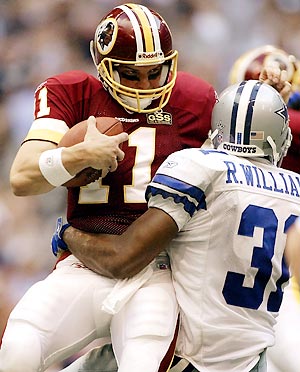 But we are due…
Will the Redskins take a QB in the 1st round of the 2011 draft? That's certainly the biggest question on everyone's mind and I don't know the answer. I do know that if they do choose a QB in the 1st round that they will become the first NFL franchise to pick 3 QB's (Patrick Ramsey, Jason Campbell and ?) in the 1st round within a 10 year period in recent, if not in all-time history of the NFL draft. 3 chances at drafting your franchise QB within a one decade time frame.
Statistics show that it's harder to get it right, than it is wrong when picking a QB in the 1st round. I took a look at the last 20 years of the NFL draft and have taken each 1st round pick and separated them into categories. Franchise, Above Average, Average and Busts. I also have any QB drafted in the last 2 seasons as TBD because I feel we haven't had enough time to truly grade the players. I've found it really doesn't matter if you're drafting a guy top-10, top-20 or in the bottom half of the round, you're more likely to miss than hit. Here's your list:
Franchise QB's - A player I would define as a guy who's going to be in your lineup for 10-12 years, make the Pro Bowl several times, take you to a Super Bowl or 2 and win a MVP award.
Vick #1, Ryan #3, Rodgers #24, Manning #1, Manning #1, Bledsoe #1, Rivers #4, McNabb #2, Rothelsburger #11, McNair #3
That's 10 QB's out of the 41 (not counting TBD's) drafted. You have a 24% chance of drafting a franchise QB in the 1st round.
Above Average QB's - A player I would define as a guy who is going to make a Pro Bowl or 2, he's going to have a least a 5 year run where he's in the upper echelon of QB's and lead your team to a playoff or 2.
Flacco #18, Cutler #11, Palmer #1, Culpepper #11, #18 Pennington
5 QB's out of 41. 12% chance of drafting an above average QB. Combining that with the 10 franchise QB's and you have 15 out of 41. You have a 37% chance of getting this pick right with an above average QB, which means you have a 63% chance of blowing this pick.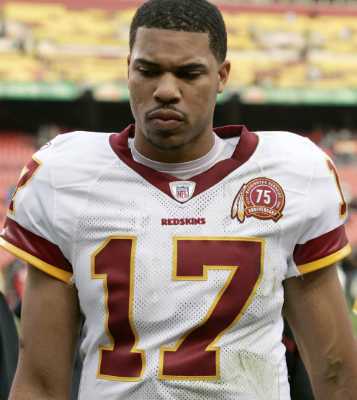 Average QB's - is there a definition needed?
#25 Campbell, #5 Collins, #7 Leftwich, #6 Dilfer, #3 Young
5 out of 41 again. 12% chance of drafting an average QB.
Busts - total debacles. And you have the greatest chance of drafting one.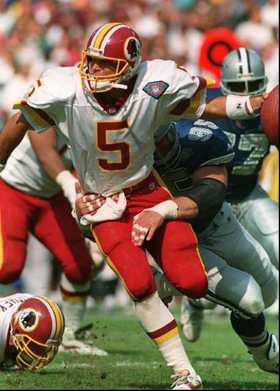 #3 Shuler, #10 Linehart, #32 Ramsey, #19 Boller, #22 Losman, #22 Grossman, #12 McNown, #3 Smith, #6 Klingler, #22 Quinn, #25 Maddox, #3 Harrington, #1 Carr, #1 Russell, #24 Marinovich, #1 Leaf, #1 Smith, #27 Drunkenmiller, #2 Mirer, #16 Mcgwire, #1 Couch
21 out of 41. Greater than 50% chance you pick a total bust at the QB position in the draft.
A couple of things worth noting:
Dallas, Kansas City, Miami and New Orleans have not picked a QB in the 1st round in the last 20 years!
The 5 QB's that are TBD are #25 Tebow, #5 Sanchez, #1 Bradford, #17 Freeman and #1 Stafford.
Please notice the Redskins currently have a Franchise QB (McNabb) on the roster, whom they benched for a bust (Grossman)…of course they did.
And finally, If the Redskins are taking their 4th QB in the 1st round over the last 20 years and the previous 3 have been busts or just average, then maybe they're due to pick a franchise QB. Which would mean all the stuff means nothing. I'll take wasting 3 hrs of my life for a franchise QB any day.
Cheers and Hail