Theismann Purchases UFL Team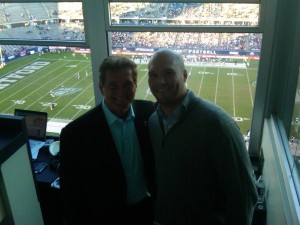 When Rob Lunn aka The Fat White Guy texted me the above picture last Saturday my first reaction was, damn my blogging friends have way cooler jobs than I do. My second thought was, why is Joe T at a UFL game in Hartford? Well, come to find out Theismann was there to be announced as the new owner and President of the Florida Tuskers.
I've been watching a few UFL games and living in Florida I naturally gravitated towards the Tuskers. Now, every Redskins fan has a UFL team to pull for (although next year Virginia will have a team with Doug Williams as the GM). The Tuskers have more Redskins ties than just Theismann. Bobby Beathard's son Kurt is the teams running backs coach and the kicker for the Tuskers is Mr. Cowboy killer himself, Nick Novak. The team is loaded with former NFL players, most notably QB Brooks Bollinger and LB Odell Thurman. The Tuskers Head Coach and GM is Jon Gruden's brother Jay.
You can see the Tuskers and all UFL games on HDNET.
Cheers and Hail