What Kind Of Season Can We Expect From Clinton?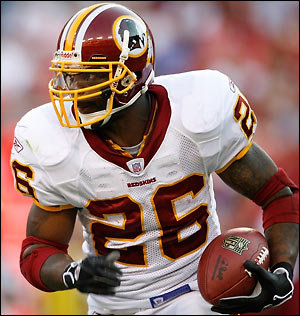 Clinton Portis is set to begin his 7th season in a Washington Redskins uniform and the question is…how much is left in the tank?
Does he have 304 yards rushing in him? I'm going to go out on a limb and say yes. Ok, I'm not really going out on a limb and you're probably wondering where the 304 number came from. Portis needs 304 yards to reach 10,000 yards rushing for his career. 10K is an elite club and that used to be a ticket to Canton, although that ticket is probably more like 12,000 now.
Does Portis have 876 yards rushing in him? Now that's debatable. With 876 yards rushing this season, Portis would pass John Riggins and become the Redskins all-time leading rusher…something that would make Riggo absolutely crazy.
I'm not going to even venture a guess on this, especially since I prematurely sent him out to pasture last year. I will say that Portis appears to have some burst this preseason and also looks to be in the best shape I've seen him in years. Cooley says he's a #2 fantasy pick and will have a solid year.
What do you think? Will Portis stay healthy, will he have a big year?
Cheers and Hail