Breaking News: Haynesworth Visits Mayo Clinic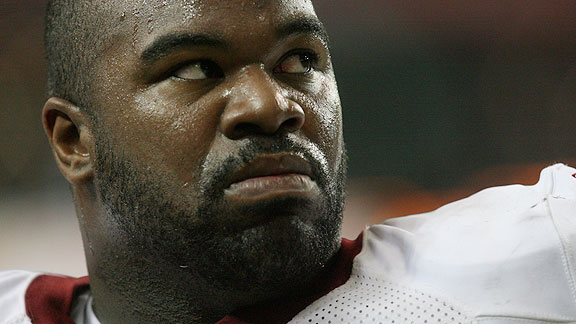 Who would have thought that this little piss ant blog would be the first to get a huge news breaking story like this one, but I've found out thru several sources that I consider to be very solid that Albert Haynesworth is at the Mayo Clinic undergoing a battery of tests. Initial tests have revealed no confirmation that Haynseworth is suffering from rhabdomyolysis, as previous reports have indicated.
The Redskins earlier today denied reports that Haynesworth suffered from rhabdomyolysis, and asked Haynesworth's agent to provide them with medical data confirming such a condition. Redskins team doctor Kenneth Noisewater examined Haynesworth and found nothing wrong with him, although I'm sure it wasn't for a lack of trying. The Redskins then asked Haynesworth to be examined by an independent doctor from the Mayo Clinic. The independent examination found that Haynesworth is indeed suffering from an ailment, although it is not rhabdomyolysis, as initially reported. Haynesworth was found to be suffering from this ailment, which could lead to him being placed on the IR or his outright release.
Seriously though, it's time shit or get off the pot with with this situation. Every relationship you have in life is based off of communication, whether it be a personal relationship or a business relationship. Without good communication, the relationship will not be healthy. The Redskins and Albert are obviously in a bad place in their relationship…they need to sit down and work things out, or move on. One way or another it needs to be decided, so everyone (including the fans) can just move forward.
Cheers and Hail