1991 Redskins = GOAT

Playboy knows how to pick em!
GOAT = Greatest of All-Time. That's where the 1991 Redskins edition ranks on the list of all-time Redskins teams. This was a topic that was brought up a couple weeks back by ESPN's NFC East Blog and was followed up by confirmation from Redskins blogger Matt Terl and confirmed by 68% of the fans.
The 1983 team was good, really good. They held the record for points in a season for nearly 15 years and almost went undefeated. That team went 14-2 and each of the 2 losses came by only one point! Unfortunately, the 83' squad went on to lose the Super Bowl by nearly 30 points and that unfortunate game pushes the 83' team to second on the list. For me, 82' comes in 3rd place and the 87' Super Bowl Champs come in at #4. Rounding out the top 5 would be the 1972 team.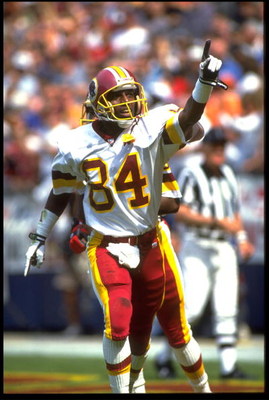 As brought up in the previously mentioned blog posts, the 1991 Redskins were dominating in every aspect of the game. The team had 8 Pro Bowlers, no other Redskins team has had more than 4 since. The Redskins Pro Bowl players came from the offense, defense and special teams:
QB Mark Rypein
RB Earnest Byner
WR Gary Clark
OG Mark Schlereth
OT Jim Lachey
CB Darrel Green
DE Charles Mann
PK Chip Lohmiller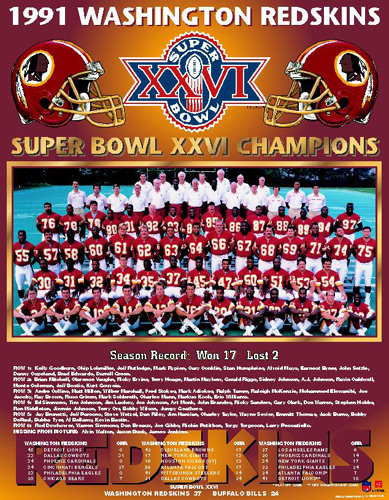 Lohmiller outscored the entire 1991 Indianapolis Colts! It's hard to tell which side of the ball the Redskins were better on and that's one of the biggest reasons the 91' team is the greatest ever. The team ranked near the top of the league in nearly every major statistical category.
Offense
#1 in scoring with 485 pts or 30.3 per game
#1 in rushing TD's
#1 in yards per pass attempt
#4 in rushing yards per game
#4 in total offense
#5 in passing yards per game
#7 in rushing yards per game
Defense
#1 in points differential
#1 in takeaway/giveaway differential
#2 in interceptions
#2 in total points allowed
#3 in yards allowed per pass play
#3 in total forced turnovers
#3 in total defense
#3 in rushing yards allowed
#3 in sacks
Maybe the defense was better. On special teams Lohmiller led the league in scoring, FG's and XP's. Brian Mitchell averaged 13.3 yards per punt return, or approximately 10 yards more than a Randle-El return.
Teams like this come around every 20 years or so….by my estimation we're due!
Thank you to the 91' Skins…the GOAT.
Cheers and Hail