Gracias Por Todo, Greivis Vasquez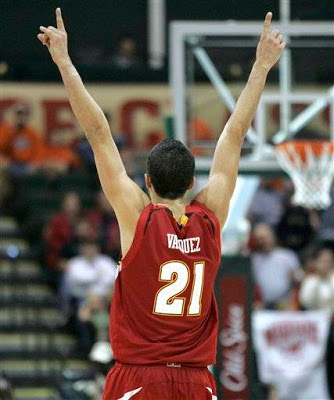 Greivis Vasquez played his last game in a Maryland Terrapins uniform today, a heartbreaking 85-83 loss to Michigan State in the 2nd round of the NCAA tournament. If the final 2 minutes were the epitaph for his career, it would read like this.
2:00 minute mark MD trails 80-71
1:54 Greivis makes a 2pt jumper, he's fouled on the play. MD trails 80-73
1:53 Greivis makes FT to complete 3 pt play. MD trails 80-74
1:51 Greivis steals ball dishes to Mosley for layup. MD trails 80-76
1:27 Greivis makes a 3 pointer. MD trails 80-79
0:39 Greivis makes a 2pt jumper. MD leads 81-80
0:07 Greivis makes a 2pt jumper. MD leads 83-82
That's 10 points, a steal and an assist in the final 2 minutes. He was Reggie F'in Miller in Madison Square Garden! He took the team on his back and he carried them. And it was vintage Greivis, out of control…fall away jumpers in the lane, using the glass and in heavy traffic…it.was.perfect.
Greivis was both frustrating and fun as hell. He was like a crazy girlfriend that you know is certified, but you can't cut her loose cuz the sex is great. I can't tell you how many times I've watched him in a game and screamed NOOOOoooo Greiv what the YESSSSSSSSSS, as he took some stupid shot that he should have never taken, but he hit them more often than not. The debate will be thrown around in bars and on blogs for many years to come, where doe Greivis rank on the Terps all-time list of great players? For me, he's now #3, behind Juan and Bias. Thanks for the memories Greivis.
Cheers and Hail