3/1-3/4 Happy Bdays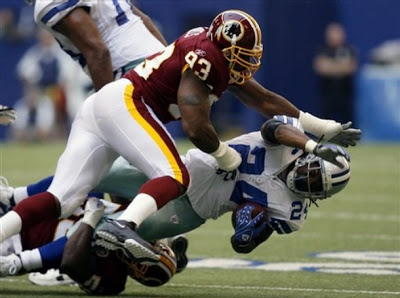 Happy birthday Phillip Daniels. Phillip was recently offered a contract to return to the Redskins for his 6th season in DC. Phillip has played 68 games as a Redskin, including all 16 last year despite playing most of the season with a torn bicep! It's no surprise that he played thru the injury, he's one strong badass. I'll never forget his 4 sack performance against the Cowboys and he was born on my birthday! Phillip will be entering his 14th NFL season in 2010 and hopes to play another 4-5 years so he and his son can become the first father/son duo to play at the same time in NFL history. I wouldn't bet against him. Happy 37th Mr. Daniels.
Happy birthday Stephen Davis. Stephen played 7 seasons for the Skins from 1996-2002. Stephen was a 2-time Pro Bowler who rushed for 5,790 yards (4th all-time) and 45 TD's during his tenure. Stephen's best season came in 99' when he rushed for 1,405 yards and 17TD's. Stephen signed a 1 day contract with the Panthers in 2008 so he could retire as a Panther instead of a Redskin…he played 3 seasons in Carolina. Happy 36th Mr. Davis.
Happy birthday Cory Raymer. Cory played 8 seasons for the Skins from 1995-2005. Cory appeared in 80 games as a Center/Guard. Cory was a 2nd round pick out of Wisconsin. Happy 37th Mr. Raymer.
Happy birthday Chris Webber. Chris played 4 seasons for the Bullets from 1994-98. Chris is one of my all-time favorite Bullets/Wizards. Chris averaged 21.4PPG and 9.3RPG during his Bullets tenure. Chris was an amazing passer and 3 pt shooter for a big man. In retirement Chris has worked in TV and just yesterday was sued for 3 million for a restaurant venture gone bad. Happy 37th Mr. Webber.
Cheers and Hail