NFL Divisional Games: Pickin On The NFL
Regular Season Stats
Staight Up 171-78 .69%
Against the Spread 107-117 .48%
NYJ @ CIN-2.5
I would like to pick Cincinnati here but I can't bring myself to do so. If the Bengals could only stop the Jets running game and force Dirty Sanchez to throw the ball, the Bengals win. Unfortunately, I don't see the Bengals doing that. The bright spot of this game…Gibbs and Theismann working the booth.
NYJ 20 CIN 14
PHI @ DAL-3.5
Conventional wisdom says that it's very hard to beat a team 3 times in one season. History tells us that the Eagles are a solid playoff team and that the Cowboys, along with Tony Romo, haven't performed well in January. Well, I'm going against conventional wisdom and history and predicting a Cowboys win.
DAL 24 PHI 20
BAL @ NE-3.5
The Wes Welker injury will cost the Patriots from advancing deep into the playoffs…however I don't see them losing this game at home where they are 8-0 this season. Flacco has been very up and down this year, I look for Belichick to have a great defensive game plan for him and Rice. Patriots win it on a late FG.
NE 23 BAL 20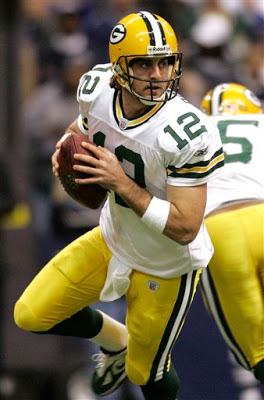 GB @ ARI-1
The Packers have been my team of destiny since the beginning of the year and I have had a man crush on Rodgers for 2 seasons now. The Cardinals are banged up and the Packers are playing their best football of the season. Green Bay advances to round 3 with Favre.
GB 27 ARI 21
Cheers and Hail