2009 Redskins Offensive Report Card
Quarterback - C
Here lies the problem I have with Jason Campbell, he's just an all-around solid C. JC had decent numbers overall; 86.4 QB Rating with 3,618 yards passing, 20 passing TD's and 15 INT's. However, those numbers plunged to a 65.6 QB rating with 6 TD's 8 INTS vs. the NFC East. After 52 career NFL starts JC's record is 20-32. Love the guy, can't say bad things about him…but the record speaks for itself.
Running Back - D
Clinton Portis and Ladell Betts went on IR and were lost for the year…neither played well when healthy. Ganther, Cartwright and Mason are not NFL caliber backs. Mike Sellers had a very sub-par year. This position has serious issues that need to be addressed.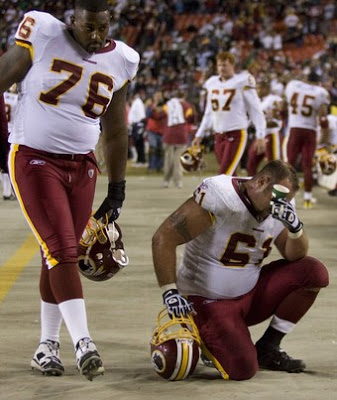 Offensive Line - D-
Dockery and Rabach were ok…besides that everyone is old, hurt or sucks…or all 3 combined. A young lineman has to be drafted and a couple more added via free-agency.
Wide Receiver - C-
Santana Moss is far and way the best WR we have…and he's not an elite receiver. Randle El was terrible…and if you think Kelly and Thomas made strides this year…your nuts. They combined for 50 receptions for 672 yards and 3 TD's. Eagle's rookie Jeremy Maclin caught 55-762-4.
Tight End - B
Chris Cooley was on his way to another Pro Bowl season before breaking his ankle. Fred Davis stepped into the starting role and performed well…in fact he seemed to get better and better. Yoder is the master of the 2 yard TD and an awesome blocker, even filling in admirably for an injured Mike Sellers. This is the deepest position on the Redskin's roster.
Cheers and Hail