Top 10 Reasons It's A Good Thing The Skin's Season Is Over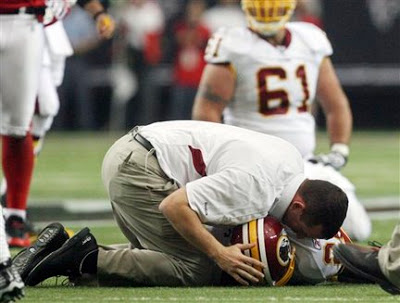 #10 The Redskins now have zero guys on IR.
#9 No need to worry about spending extra $$ on playoff tickets.
#8 For at least the next 8 months we no longer have to watch Antwaan Randle El return punts…or play football in any capacity for that matter.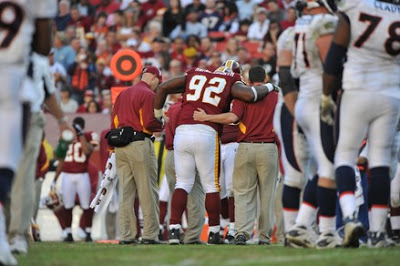 #7 Albert Haynesworth can now get down on one knee and catch his breath…without getting carted off the field or causing an unscheduled TV time-out.
#6 We get to start tracking the flight patterns of Redskin's One! Where in the world is the Danny and who's he overpaying now?
#5 We can look forward to the NFL draft in April…where the Skins could do something really crazy…like draft an O-lineman!
#4 We can now concentrate our time on the Wizards playoff run…or Gilbert's legal defense.
#3 Carlos Rogers is a free agent! 6 INT's in 5 years. How many dropped INT's…A LOT!
#2 The Redskins offensive game plans will no longer be devised in a meeting where the head coach devising the game plan is not allowed to actually call any offensive plays but the guy who is in charge of calling plays isn't allowed in the meeting to build the game plan. Confusing? Yes.
#1 It's the start of the offseason…the time of the year when the Redskins shine. Needing a head coach and with an uncapped year…we're going to win the offseason again!
Cheers and Hail