12/7-12/9: Happy Birthdays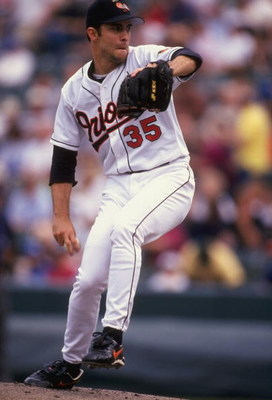 Happy birthday Mike Mussina. Mike played 10 seasons for the Orioles from 1991-00'. He is by far and away my favorite pitcher of all time. He won 147 games as an Oriole, 3rd on the O's all-time list. He's also in the top 10 games started, innings pitched and strikeouts. As an Oriole, Mike also made 5 All-Star teams and won 4 gold gloves. Mike retired after the 2008 season with an American League record of 17 consecutive seasons of 11 wins or more. He also went out at the top of his game, winning 20 games for the first time in his career. Happy 41st Mr. Mussina.
Happy birthday Ricky Ervins. Ricky played 4 seasons for the Redskins from 1991-94'. He was a 3rd round pick out of USC who burst onto the scene in week 7 of 91'. Ricky relieved Earnest Byner and rushed 13 times for 133 yards and 2 TD's. Ricky capped off his rookie season with 72 yards in the Redskins Super Bowl win over the Bills. As a Redskin Ricky rushed for 2,026 yards, caught 115 balls for another 849 yards and scored 10TD's. An explosive runner in a compact package at 5'7" and 195lbs, Ricky fittingly owns and operates Extreme Explosion in Northern VA. Ricky now trains athletes and normal Joes to become faster, stronger and in better shape. Happy 41st Mr. Ervins.
Happy birthday George Rogers. George played 3 seasons for the Redskins from 1985-87'. During those 3 seasons George rushed for 2,909 yards and 31TD's! His best season came in 86' when he replaced legend John Riggins as the Skins featured back. George stepped right in and rushed for 1,203yds and 18TD's. George won a Super Bowl ring in his last season, retiring after the Skins 42-10 win over the Broncos. George was a Heisman Trophy winner, won the NFL Rookie of the Year award and is a member of College Football's Hall of Fame. George runs a foundation and does radio work in retirement. Happy 51st Mr. Rogers.
Happy birthday Barry Wilburn. Barry played 5 seasons for the Redskins from 1985-89'. He appeared in 82 games and intercepted 19 balls. Barry also accumulated 216 tackles and 6 fumble recoveries during his tenure. Barry's best season came in his All-Pro 87' campaign, he led the league in interceptions with 9 (in only 12 games,) and capped the year off with 2 more interceptions in the Skins 42-10 Super Bowl win over the Broncos. Happy 46th Mr. Wilburn.
Cheers and Hail