11/30-12/1: Happy Bday Jeremy Jarmon & Jeff Tackett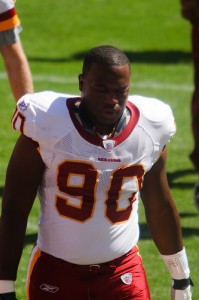 Happy birthday Jeremy Jarmon. Jeremy actually had a pretty rotten birthday…he tore his ACL in Sunday's game, ending his rookie season. Jeremy was the Redskins 3rd round pick from this years supplemental draft. In recent weeks he had worked his way onto the field and showed some promise…I look forward to seeing a healthy Jeremy next season. Happy 22nd Mr. Jarmon.
Happy birthday Jeff Tackett. Jeff played parts of 4 seasons for the Orioles from 1991-94'. Jeff was a 2nd round pick in the 84' draft and threw out a respectable 36% of runners attempting to steal during his career. He hit only 7 HR's during his career, but he went out in style…homering in his final at-bat. Jeff also made cameo appearances in the movies…Bob Roberts and Dave. Happy 44th Mr. Tackett.
Cheers and Hail