Redskins: 18 Years Of Futility Rolled Into 1 Post
I still love the Redskins, I'll love em' for the rest of my life…but this year is lost. We have no mulligans, no do-overs…it's a lost season. I had high hopes before the season started, like I do every year, but every year for the past 18…my dreams have been crushed. How, have my dreams been crushed? Well…here's a few examples (70% of these examples were found in this book, a must have for any Skins fan!!)
1991- Skins win the Super Bowl but Joe Gibbs forms his NASCAR team which doesn't seem like a big deal at the time…
1992- Skins spend their first round pick on Desmond Howard.
1993- God tells Reggie White to play in Green Bay, not Washington…God tells Joe Gibbs to retire.
1994- Due to retirement/firing/cleaning house the Redskins part ways with all-time greats Jacoby, Bostic, Monk, Mann, Rypien, Petitbon and Charlie Taylor…my uncle Mojo vowels to become a Cowboy fan instead of a Redskin fan (mostly due to the Monk fiasco)…he remains a Cowboy fan to this day. Skins draft Shuler and hire Norv Turner.
1995- Redskins part with Coleman and Lohmiller….Draft Westbrook in 1st round.
1996- God tells Sean Gilbert to play for the Redskins, not the Rams…draft OT Andre Johnson in 1st round, he never plays a game!
1997- Jack Kent Cooke dies and leaves the team to the highest bidder, Dan Snyder eventually shows how adept he is at being the highest bidder (professional teams, free agents, coaches.) Westbrook sucker punches Davis.
1998- Skins get rid of Gilbert, sign Stubblefield to replace him…team starts 0-7.
1999- Originally thought to sell for the $500-$600 million, the Redskins are sold for $800 million to Dan Snyder (our first introduction to Dan's overspending)…Snyder fires Charley Casserly and hires Vinny Cerrato…Snyder further disrespects Cooke name by re-naming Jack Kent Cooke Stadium.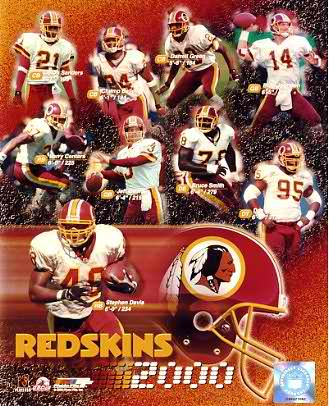 2000- Dan Snyder opens his pocketbook to Jeff George, Bruce Smith, Mark Carrier and Deion Sanders…charges fans to watch training camp practices in Ashburn…cut longtime Skin Brian Mitchell…Skins go thru 5 kickers, none of them make key kicks.
2001- Schottenheimer signed as HC until…
2002- Spurrier hired as HC…Vinny is brought back after Marty fired him…Skins sign horrible ex-Florida QB's Matthews and Wuerffel.
2003- Final 2 roster cuts are made by Dan Snyder, of course…
2004- Skins trade picks and sign Brunell, deal Bailey for Portis…Skins go 6-10 in Gibbs 1st season back.
2005- After trading up to 1st round, Skins draft Campbell, become 1st team to ever spend 2 1st rounder's within a 3 year span on QB's…Arrington plays his way out of DC.
2006- Brunell looks old again…Portis misses most of season with injury…Gibbs worst season @ 5-11.
2007- Sean Taylor passes.
2008- Gibbs retires again…Zorn hired as HC, OC, QB coach…Gregg Williams fired…Cerrato promoted…2 draft picks traded for Jason Taylor…
2009- You are living it now!
Cheers and Hail