Happy Bday Monte Coleman & Reed Doughty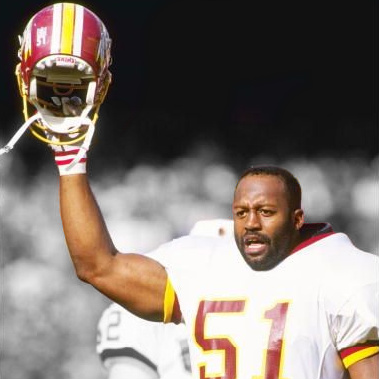 Happy birthday Monte Coleman. Monte played 16 seasons for the Redskins, covering 3 different decades from 1979-94'! Monte ranks among the Redskins all time leaders in games played, sacks, fumble recoveries and tackles. He is a 3 time Super Bowl Champion who played 215 games as a Redskin, 2nd to Darrell Green. He his a member of the 70 Greatest Redskins…have I mentioned he did all this after being drafted in the 11th round! Monte was an inspirational leader on the field and one of my all time favorite Redskins. I also remember Monte as being an avid fisherman who owned a fishing supply store in Chantilly back in the day. It's no surprise to learn that in addition to making a living as a motivational speaker, Monte has stayed in the game of football. Monte is currently the Head Coach at the University of Arkansas at Pine Bluff. Happy 52nd Mr. Coleman!
Happy birthday Reed Doughty. Reed is currently playing his 4th season as a safety for the Washington Redskins. It's fitting to me that he's born on the same day as Monte Coleman, they are cut from the same cloth…if the Redskins had 53 Reed Doughtys' and Monte Colemans' they would never lose a game. Reed was drafted by the Redskins despite not playing Division I college football, he did however have 4.0 GPA in college…and it shows on the football field. Reed has won and lost the starting FS job several times over the past few years. He became the starter after Sean Taylor's death…and played well early in 08' before a back injury ended his season. The Redskins would later cut him, only to bring him back before the 09' season. After starting 09' on the bench, Reed has since won the starting job back. Reed also plays with a severe hearing impairment…you cannot keep this man down! I heart him. Happy 27th Mr. Doughty.
Cheers and Hail