NFL: Week 7 Thoughts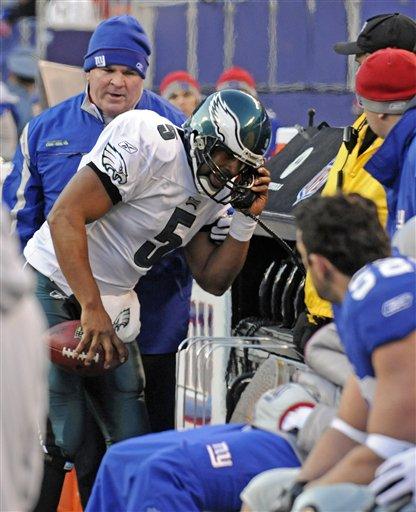 Can I order another timeout please?
NFC EAST
NYG       Did the Giants have an off day…or are the Saints that good?       
PHI         McRibb went to the Chris Webber School of Timeouts.
DAL        Jerry Jones announced that Wade Phillips will be the head coach until Jon Gruden takes over.
WAS      You don't think the Danny is going to try to get some face time with Gruden Monday night, do you?
NFC NORTH
MIN       The Vikes are averaging 31 ppg and haven't scored less than 27.               
GB          Rodgers is on pace to be sacked 80 times yet has a 104.1 QB rating…that's impressive!
CHI         With Cutler & Rodgers this division is going to be exciting for many years to come.
DET        The Lions give up 35 ppg, except to the Redskins of course.
NFC SOUTH
NO         The Giants once stripped Sean Payton of his play calling duties, I wonder what they think of them now?
ATL         This team now appears to be hitting its stride.
TB           Blowing out Allen/Gruden doesn't look so good now does it Glazer family?
CAR        The Panthers offensive game plan should be to keep the ball out of Delhomme's hands.
NFC WEST
SF           After a 35 point loss, I bet Singletary made the bye week miserable for the 49ers.
SEA        A bye week here to see if the Seahawks can get healthy and make a run.            
ARI         Warner got to 30K passing yards in 115 games; I'm more amazed that the old man has only played in 115 games.
STL         The Rams lose by an average of 23 ppg, except to the Redskins of course.
AFC EAST
NYJ         Sanchez has 10 INT's and a 56 QB rating…makes sense that Vinny was smitten.
NE          If I'm losing by 45 points and the teams still throwing all over the place, somebody is going to get their leg broke.
BUF        Dick Jauron + Ryan Fitzpatick = not a good recipe for success.
MIA       Anxious to see if Henne is going to be an NFL caliber QB.
AFC NORTH
BAL        Lost 3 in a row since I anointed them the best in the AFC
CIN         OchoCinco wrote a bad check to a hooker, what hookers take credit?
PIT          Jeff Reed is the biggest douche in the history of sports, that's a proud franchise, get a new kicker!
CLE         Is Zorn calling the plays in Cleveland also?            
AFC SOUTH
IND        Note to self…check the waiver wire for Austin Collie.     
JAC         This team will take a Redskin-esque schedule and turn it into 7-9.
HOU      If past serves me correct, next up for this team…a Schuab high ankle sprain.
TEN        How does 0-6 get worse? You make Vince Young your starting QB.
AFC WEST
DEN       Josh McDaniels is listed at 5'10"? Now way, Michelle Tafoya towers over him!
SD           In his 12th season as a head coach (how, why?) Norv now has a career record of 79-98-1.
OAK       Thank you for last week Oakland, that was nice!
KC           The Chiefs allow 28 ppg, except to the Redskins of course.
Cheers and Hail