Posts Tagged '70 greatest Redskins'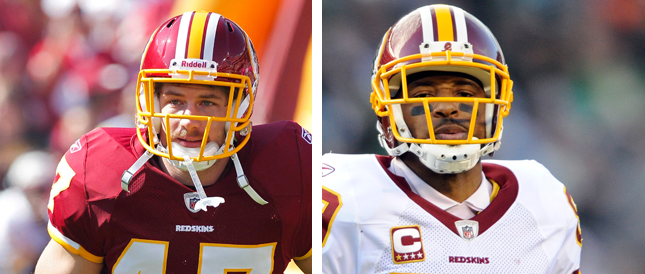 In honor of the Redskins 80th Anniversary season the Redskins recently announced their "10 For 80" fan vote. "10 For 80" is a fan vote to decide the 10 Redskins players to be added to the list of the "70 Greatest Redskins" team that was chosen 10 years ago. As a fan of the Redskins for 30+ years I was excited to choose my picks that will forever be engraved in Redskins history. To my amazing disappointment, the 2 players that deserve to be on this team the most aren't even eligible under Dan Snyder's asinine rules.
Chris Cooley and Santana Moss are no-brainers to be included on the "80 Greatest Redskins" roster…yet you can't vote for them. Here's the stupid rule for the criteria for being eligible for the 80 which eliminates them from consideration:
Active NFL players are eligible, but any current team member must have spent at least 10 years with the team to be eligible
So, if you're a former player you're eligible if you only played 3 seasons for the Redskins but if you're a current player for the Redskins you have to have played 10+ seasons? What kind of sense does that make? Both Cooley and Moss are possible training camp cuts. It would look horrible from a PR standpoint to have cut a player that the fans just chose as one of the greatest players in franchise history, could this have anything everything to do with this rule? And, if they had been cut back in March they'd be eligible but because they're still busting their asses for the burgundy and gold they are ineligible? STUPID
And why bring players back into the equation that were already eligible for the "70 Greatest" roster? They were already passed over once…we have to choose from "sloppy seconds" instead of guys who deserve to be on this roster?
Here are some facts:
39 of the original 70 Greatest Redskins played less than 10 seasons for the Skins. Obviously, the 10 season barrier means nothing.

The other 2 TE's on the ballot (Clint Didier & Rick Walker) have a combined 164 receptions vs. Cooley's 428.

No other WR on the ballot has half the stats that Moss has.

Moss & Cooley rank 4th & 5th all-time in career receptions in Redskins history yet we can't vote for them.

Moss & Cooley rank 4th & 9th all-time in career receiving yards in Redskins history yet we can't vote for them.

Moss & Cooley rank 7th & 9th all-time in career receiving TD's in Redskins history yet we can't vote for them.
For me, it's clear that this "rule" should be changed immediately so that these 2 players can be where the belong, on the roster of the "80 Greatest Redskins"
Cheers and Hail