RFK All-Stadium Team = Fail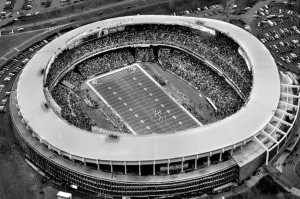 I get emails on a weekly basis from different entities wanting me to promote their products. I usually delete the emails & move on because I barely have time to promote my own blog, let alone promote someone else's business.
Recently, I got an email from Swanson Communications alerting me that the 'RFK All-Stadium Team' had been announced in honor of the 50th anniversary of the stadium. While I wasn't asked directly to promote this, I'm assuming I was emailed this list because I have a Redskins blog…and I just might promote this. After reviewing the list of players included on the 'RFK All-Stadium Team', I now have no choice but to blog about it.
The voting process and the results that the votes produced are terrible. The goal was to vote for the top 50 athletes and entertainers that have played or performed at RFK over the years. The problem was Swanson Communications listed every swinging dick who stepped foot in RFK on the ballot…I'm surprised I'm not on there! I was at the seat cushion game and saw a pre-season baseball game in 1985…in the snow. Plus, I was on the field for the last football game played there. Anyway, RFK = football, so the majority of players should've been Redskins but they weren't.
Rather than ramble on I'm going to focus in on a few of the players chosen to the team:
Doug Williams. Williams played in 10 games at RFK, 10 games!!! He completed only 52% of his passes and had only 13 TD's and 10 INT's. Dave Butz, Gary Clark and Neal Olkewicz are a few names that come to mind that are more deserving.

Soccer? I'm not a soccer fan but I'd vote a few of these guys in, but certainly not 12 of them. Freddy Adu was a huge bust, we're going to put him on the 'All-Stadium Team?'

Cristian Guzman is on the team. Who's going to sit around telling their grandkids "I saw Cristian Guzman go 1 for 5 with an error at old RFK…good times!"

The Beatles, The Rolling Stones and Bruce Springsteen are no-brainers if you're going to include entertainers on this "team". But, Swanson Communications included the likes of Sisqo and Hoobastank in the voting…totally ruins any credibility this "team" has for me.
There's so many holes in this "team" I could go on forever. I would hope that a more professional vote can be conducted to find the true "RFK All-Stadium Team". The team provided by this "vote" is nothing more than a farce.
Cheers and Hail