Becked If We Do, Becked If We Don't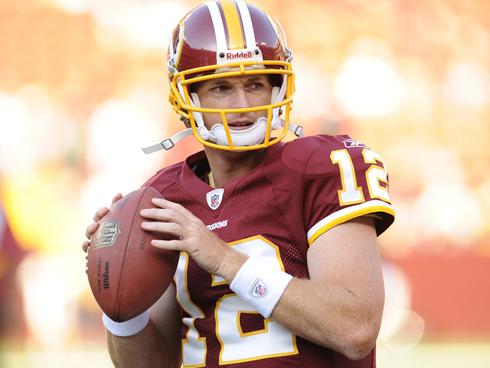 John Beck or Rex Grossman? What kind of quarterback "controversy" are we really dealing with here? What's the argument…this guy doesn't suck quite as bad as the other guy? Seriously, why the F should anyone really care about 2 journeymen QB's that are barely on a NFL roster, let alone starting?
Of course we care because we are fans, diehard fans of the Washington Redskins. Short of that, you can't build a compassionate argument for either of these QB's. Rex Grossman has had the opportunity to start 8 games and has managed to turn the ball over 18 times in that span…that doesn't work. Rex went 4-4 in his starts and one can only imagine that the Redskins may have gone 6-2 or better had Rex only turned the ball over 1 time a game…instead of 2+. But, Rex has proven during his 9 years in the NFL that he simply can't be relied upon to protect the ball…so he's turned the ball over again (pun intended) to Beck.
The only thing I can possibly hope to see from Beck is less turnovers. He's got some mobility which he's going to need since the Redskins offensive line is banged up. Give me a little mobility, limit the turnovers and manage the game well…that's all we can hope for. We don't have Aaron Rogers lining up in disguise wearing a burgundy and gold #12 jersey. What we have is a guy who's been unable to be active for a NFL game for nearly 5 seasons.
Despite the fact the fact that the Redskins defense is much improved and will keep us in most games…I will be amazed if the Redskins can find a way to win 5 more games this season. Forget about the 3-1 start and all the optimism that brought, this team is a .500 team at best. The Redskins will never be able to take it to the next level until we improve the QB position. So argue all you want…
All we really need is a little Luck.
Cheers and Hail