Cooley Shows Off His Finger On Fox5
Chris Cooleyshowed Fox5 news more than just his broken finger this morning during a live interview from his home. Unbeknownst to the Fox5 cameras it appears Cooley has a cartoon penis on his splint…of course he does.
The penis pops up around the 30 sec mark.
Washington Redskins Chris Cooley and the Sports Junkies Talk About the Game: MyFoxDC.com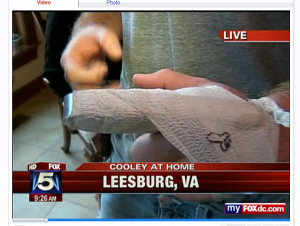 Cheers and Hail