RJ: Training Camp Day 33
Reggie Jones is posting his training camp journal on this site, please check back often to follow Reggie on his journey.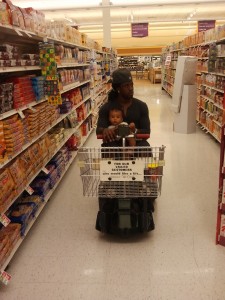 Woke up this morning feeliN good.. As I was headed out the room door I noticed Dash sitting up in the bed lookiN dead in my eyes.. lol so I went and gave him a zillion kisses.
On the way to the facility I was bumpiN that Carter 4 album. It's good. The Carter Albums are always hot! My favorite song on the album so far is "So Special" ft. John Legend
We had a padded practice today. I had a good practice. Once again I'm excited for this weeks game. I'm excited every week, because I love playiN this game.
After practice, I hit the weights, then headed up to meetings. After meetings I got a little extra film in, gotta find the routes I'm GONNA jump no matter what. (Learned that from Darren Sharper in New Orleans)
When I came home and walked through the door Dash's face lit up. He started smiling and jumping up and down. Highlight of my day.. I love coming home to a HAPPY home.. (=
Tomorrows gonna be a bitter sweet day.. we cut the roster from 90 to 75 or 80. Sad seeiN people go. Many don't realize, these are peoples jobs, and gettiN let go hurts us just as bad as it would if it were to happen to anybody else in the world. At the end of the day it's still losing a job, and leaves people heart broken and in a desperate panic to find new employment to provide for themselves and often times their families.
On a lighter note, I was out of milk for my cereal, so I went to the store to grab some. If you're out shoppiN during the season you may see me riding around in the motor carts. "I don't wanna waste my leg energy"(That's my excuse) lol
I told Wifey if she wanted to continue to have a free pass in the Man Cave, she had to watch a scary movie with me..
So I got her to watch #Insidious with me.. SHE WAS SO FREAKED OUT!! LOL .. she's such a scaredy cat.. lol I love her though.. Now she won't walk anywhere in the house without me.. lol
{THEME MUSIC PLEASE} "Du Du Du Nuh" SUPER HUSBAND TO THE RESCUE.. lol.. She made us go upstairs and watch Spongebob Square Pants to take her mind off of it.. lol
O yeah, Madden comes out tomorrow.. THE MADDEN 2012 CHAMP IS HERE!! Excited to start up another online dynasty on Xbox. D.Hall and Barnes tried to convince me Ps3 is better. (NO WAY!!) I guess they do a dynasty on ps3 every year too. IM A XBOX GUY, but I'm debating gettiN a ps3 just to dominate their little league.. lol
I'm glad people enjoy reading my journals. I've been getting alot of messages and text sayiN they like it. Also there's been ALOT of traffic to the site from people viewing it. Glad I can provide POSITIVE entertainment through my stories. (=
Goodnight. #DREAMINabout: "#DREAMS" A dream is just a dream til u decide to wake up and live it" ~$HOWTIME