RJ: Training Camp Day 15
Reggie Jones is posting his training camp journal on this site, please check back often to follow Reggie on his journey.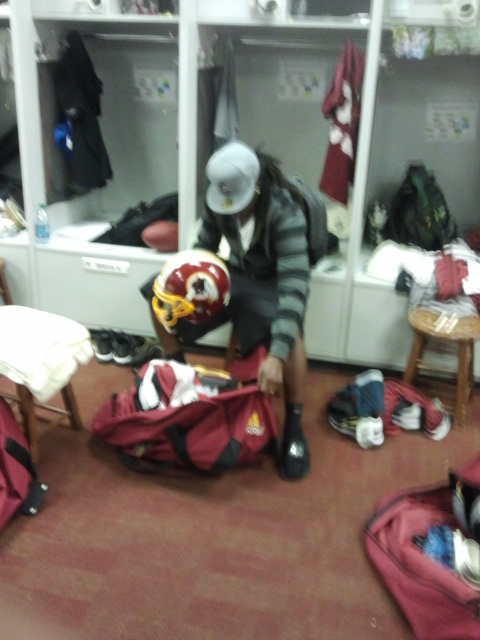 Woke up this morniN and headed to the facility for 8am meetings. We had to go over the equipment regulations policy. Man the league got more strict this year. They're trying to fine for everything.. lol
After that meeting we had team meetings, then a pre-game Walk-thru.. I'm starting to feel the excitement inside of me building up for tomorrows game.. It hit me when I was packing my travel bag, making sure I had everything on my checklist.
Went home to hang out with the fam for a bit. I appreciate that Wifey makes sure everything is extremely stress free, so all I have to focus on is ball. Even when I try to help out she'll tell me to "sit down", or "jus chill" lol.(SHE SAYS IT WITH FORCE TOO) So I have to listen. lol
Hopped in the ice tub to get my legs fresh for the game.
I'm the #2 corner behind D.Hall tomorrow, so I'm gonna get plenty of playing time, and plenty of time to shut things down on my side. SO READY!
Feels good to control my own destiny.. tomorrow night is $howtime..
I could fill an entire novel with all the excitement I'm feeling from being able to play ball, but I'm not. I'm gonna let it all boil inside of me tonight and tomorrow, so it's hot and ready to serve up tomorrow night. SALUTE!
#NowPlaying ((#Drake –THANK ME NOW )).. ""They tell me im the hottest, i guess you'll finally get to see..""
P.s I think we have the best uniforms in the N.F.L.
I LOVE PLAYING FOOTBALL!!
Goodnight World. #DREAMINabout: "#LOCATION" Doesn't matter where I came from. IM HERE NOW!! ~$HOWTIME