RJ: Training Camp Day 10
Reggie Jones is posting his training camp journal on this site, please check back often to follow Reggie on his journey.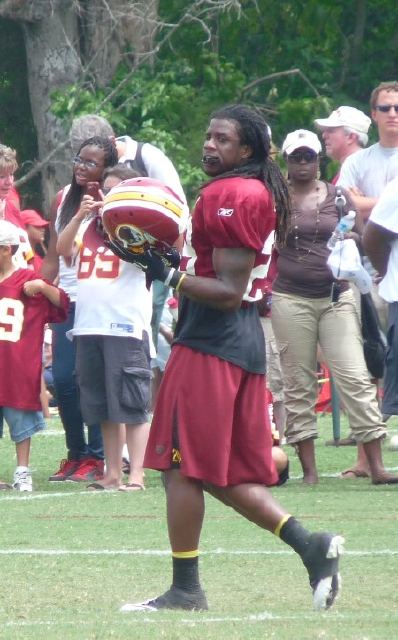 Woke up this morning excited for the day. It's Fan Appreciation Day so EVERY REDSKINS FAN came out to enjoy. Anyone who wasn't out there, definitely wanted to be there.
I was already excited today because we were strapping on the big boy pads. Then I walked outside and seen how many fans there were at practice, and it blew me away. I knew i HAD TO PERFORM WELL!
I gave up a couple little short catches. Nothing to move the chains, and NOTHING DEEP! Greg Williams told me in New Orleans "Giving up deep balls is a sin" lol..
The best feeling today was when I got my interception, hearing the crowd go "OOOOOWWWW" and cheering.. lol..
I Really like fans, so I try to put on a "show" when they're around.
Today was probably the best practice I've had thus far. It's never perfect, and there's always room to get better.. So Im looking forward to next week.
P.S. INTERCEPTIONS ARE ADDICTING! I NEED MORE!! lol
Coach gave us the rest of the day off, and tomorrow as well. So Im excited about that because I finally get some family time..
Once I got home I took a nap. Then Wokeup and went out to eat w/ wifey and Dash. (Cheesecake factory) felt good to just have some "Team Jones" time..
My roommate was released today.. )= He'll bounce back strong with another team Im sure.That's one of the tough parts of this business.. Seeing people you grow close to get sent home.
excited for Friday's game vs. the Steelers.. IT'S ON!!
Goodnight World.. #DREAMINabout: "#PROOF" More so then proving them wrong, i consistently enjoy proving myself right.. ~$HOWTIME