Reggie Jones: "You're Going To Notice Me Somehow"
Reggie Jones will be posting a training camp journal on this site, please check back often to follow Reggie on his journey.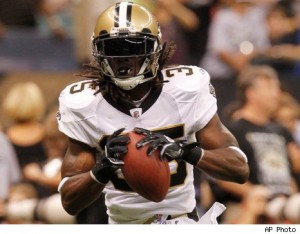 Reggie Jones has a Super Bowl ring and a tattoo of the NFL logo on his right bicep. He's entering his 3rd NFL season, but he's never played in a regular season NFL game. The tattoo is there to remind him that all he ever wanted to do was play in the NFL and the ring proves he's been to the top. But he's still never played in the NFL…he's kind of like Moonlight Graham. The tattoo goes back to a day when he was in middle school…
If you're a fan of the Redskins and you enjoy pulling for an underdog then you need not look any further than cornerback Reggie Jones. Don't know who Reggie Jones is? Understandable, he's yet to play a game in a Redskins uniform and only the most diehard of fans may know that Reggie Jones is on the Redskins roster. Up to this point he's been a practice squad player with a fairly common name that makes you think you've heard of him before…but maybe you've got him confused with someone else. I'm here to tell all of you now, there is nothing common about Reggie Jones and if you think you know who he is…it goes much deeper than you think.
Underdog? He makes Rudy look like the Yankees. Reggie was undrafted out of Portland State where he played for former NFL coach Jerry Glanville. Undeterred, he signed on with the New Orleans Saints where he would win a Super Bowl. Unfortunately, Reggie blew out his Achilles in the preseason that year so he never played a game during the Saints Super Bowl run. He spent the entire season on IR, but he does have a ring to show for it. The next year Reggie was relegated to the practice squad for nearly the entire season before the Redskins signed him to their active roster for the seasons final week. Reggie was inactive for that game but things were looking good for 2011. Then, the lockout…another potential roadblock in his journey.
Reggie is now faced with just a few weeks to show the Redskins front office that he deserves to make the active roster. Without the benefit of OTA's and without the use of the teams facilities for the past 3 months. It's a tall order, but I believe he can do it. Check the site often to read Reggie's journals as he follows his dream.
Cheers and Hail