PSA: Beware Of The Beck Flu
I want to warn everyone reading this post about a terrible virus that's terrorizing Redskins bloggers, fans and media everywhere. It's a terrible disease that attacks your brain and makes you start writing or spewing crazy things. It's called the "Beck Flu". Scientists have tracked the source of this virus to a wooden toothed man in Ashburn, VA. Mike Shanahan was experiencing Beck-like symptoms when he started praising the accolades of a journeyman QB named John Beck a few weeks ago and the disease spread more rapidly than anticipated. The good news is I have the vaccine to cure this problem, cold hard facts about John Beck that should cure…or at least help temper the effects of this virus.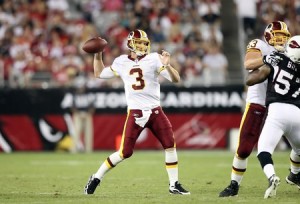 Seriously, what's going on here? Everyone's getting excited about Beck because he gives good interviews? Of course he's going to say all the right things in interviews, how does that change anything he's ever done on the football field as a NFL QB? I think I would be a great leader, would make dozens of copies of my Redskins playbook to give to others and I can lead the Redskins to the playoffs…anyone want me to be the Redskins starter in 2011? I don't think so…and my NFL credentials are nearly as good as Beck's!
10 reasons you should temper your enthusiasm for Beck becoming the Redskins starting QB:
Beck has one more career passing TD than I do.
Beck has the same amount of career wins as I do, which would mean he has zero. Beck has played 4 more seasons than I have.

Beck has been the 3rd string QB in 3.5 out of his 4 NFL seasons. He would've been 3rd string all 4 seasons if not for injury. 3rd string people…not the backup.

Beck has been stuck behind the likes of Troy Smith and Cleo Lemon on the depth chart during his career.

After being chosen in the 2nd round of the 2007 draft to be the Miami Dolphins franchise QB, the Dolphins turned around and picked Chad Henne in the 2nd round the very next year.

The GM (Bill Parcells) who picked Beck to be his franchise QB in 2007 cut him after only 2 seasons. Didn't take long for Parcells to cut his losses. #badsign

Beck's offensive coordinator in Baltimore, Cam Cameron (who was the HC in Miami when Beck was drafted) didn't fight to keep him (even as a backup) when the Ravens traded him to Washington.

The Ravens traded Beck to the Redskins for the Skins 4th string practice squad QB, Doug Dutch. The Ravens would later cut Dutch…

Beck has 7 fumbles and 3 INT's in his 5 career games.

Beck wears jersey #3. Brings back horrible memories of Jeff George and makes me wonder if Hunter the Punter would be a better QB.


All that being said I'm all for healthy competition and giving the guy a shot. I appreciate his positive attitude and work ethic. But, if Beck is our opening day starter in 2011…I hope the lockout last till 2012.
One last thing Grossman > Beck
Cheers and Hail