Moving Redskins Park Would Be Another Bad Move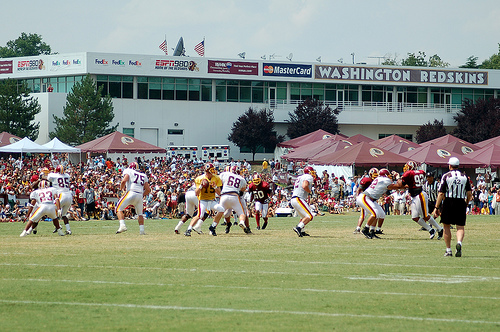 When Dan Snyder was doing his round of interviews during Super Bowl week he touched on a variety of topics (in between bus-rolling Tony Wylie). One of the items that interested me the most was when he mentioned that he's interested in moving Redskins Park from Loudoun County to another location in the DMV. The Redskins have been headquartered in Herndon or Ashburn for nearly 40 years and I've documented some of the great times I've had at these locations here on this blog.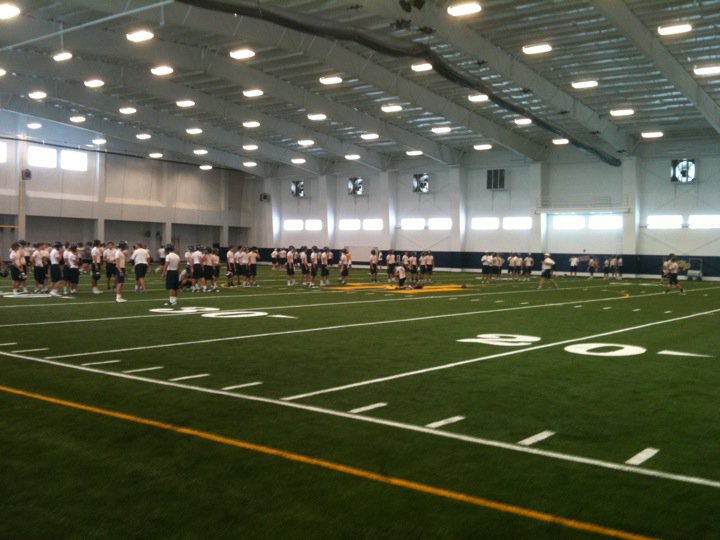 There's no doubt that Redskins Park is ageing and lacking some of the features of more modern facilities, mainly the practice bubble. On several occasions last year the team was forced to practice in a hangar at Dulles Airport due to inclement weather. In the picture above you'll notice a $4.5 million indoor high school facility the Packers practiced in during Super Bowl week. Yes, there are high school teams with better training facilities to prepare them for games.
There is ample room at current Redskins Park to build a "bubble" as indoor practice fields are sometimes called. Dan Snyder could very easily authorize the construction of the bubble and remodeling of current Redskins Park to bring the team up to speed with the rest of the league. The threat of leaving Ashburn for DC or MD has only one motive behind it, MONEY! I'm sure that Snyder could have DC or MD step up and offer to help pay for part or all of a new building in exchange for the boost of that areas local economy.
I'm sure if you took a poll of current Redskins asking them if they'd like to stay in Ashburn or move to MD for a state of the art facility with Audrina Patridge as the head masseuse, nearly all the players would say Ashburn. All the players and coaches live in the Ashburn or Great Falls area and I'm quite certain none of them would want to deal with rush hour traffic to get to MD! The other alternative for the players would be moving their families closer to the new location. It would be such a great idea for Snyder to ask +/- 70 players and coaches to try and sell their homes in this economy…after locking them out.
The bottom line is this, the tradition of the Redskins in Loudoun is strong and they should remain there. Danny's the one with the helicopter, he can continue commuting.
Cheers and Hail